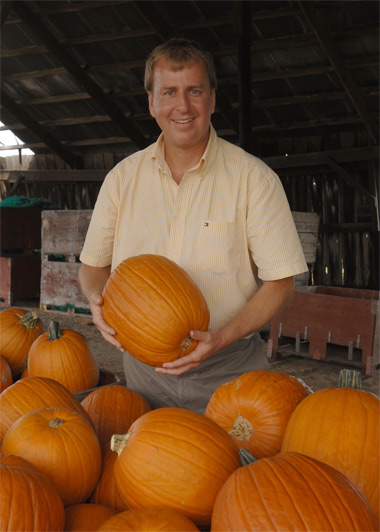 Pretty pumpkins -- Vegetable scientist S. Alan Walters shows off dirt-free pumpkins he grew in a no-till patch at Southern Illinois University Carbondale. Squeaky-clean pumpkins -- a side benefit of no-till -- command a premium price at market. (Photo by Russell Bailey) Download Photo Here
October 20, 2010
No-till good for pumpkin growers -- and carvers
CARBONDALE, Ill. -- Chances are the extra-clean jack-o-lantern you just carved up is more than a pretty face. A lack of dirt at the market signals you've probably bought an eco-friendly pumpkin.
That pumpkin would have grown to its rib-tickling size on a thick bed of straw, never resting directly on the ground. The straw, which keeps down weeds while conserving moisture, plays a key role in a production practice called no-till. Long used in growing corn and soybeans, no-till builds soil, cuts down on erosion and helps crops weather a drought. A side benefit -- the relatively spotless pumpkins that result -- is making the practice increasingly popular with pumpkin growers.
"Not having to take the soil off is a big deal for the growers -- they can get a premium price for their crop," explained vegetable expert S. Alan Walters of Southern Illinois University Carbondale's College of Agricultural Sciences.
Walters, who has conducted research on no-till in vegetable production for more than a decade, thinks it offers huge environmental advantages over conventional tillage.
"When you till, you increase the break-down of organic matter in the soil so you have to continually add organic material back in, especially in the clay soils we have around here," he said. "No-till actually builds organic matter in the soil, which enhances microbial populations, and increases the soil's nutrient-holding capacity, which is good for growth.
"Tilling also allows for more moisture loss as you break up the soil. No-till increases the moisture-holding capacity -- you can dig down into the soil with your finger and feel it -- so plants can withstand drought better."
For pumpkin growers, no-till can improve the bottom line as well. In a three-year study at research plots in the ag college's Belleville station, Walters found no-till patches produced 50 percent more pumpkins than conventionally tilled fields, and those pumpkins were bigger (by about 26 percent) and heavier (nearly double the weight).
But no-till has a flaw that until recently kept pumpkin growers from buying in on a large scale.
"Weeds are a major problem in no-till pumpkins," Walters said. "There are only a few herbicides that growers can use, and most do not provide season-long control."
Farmers with tilled fields solve weed problems with a plough, an option not available in no-till.
"In small fields, you could go through and hoe or hand pull weeds until the pumpkin vines grow out and shade the soil, but that's not really practical for most commercial growers," Walters said.
Laying down a thick layer of mulch helps, but Walters' recent research suggests growers would do even better by growing their own mulch right in the pumpkin patch.
"We've been using winter wheat or rye as a cover crop, then planting the pumpkins into the stubble, getting soil coverage of between 50 and 70 percent," Walters said. "The stubble also helps in building the organic matter content in the soil."
In addition, Walters has found that using winter rye as a cover crop led to greater control of common cocklebur, redroot pigweed and common waterhemp during the first 60 days after planting. But while stubble keeps weeds down early in the season, the effect doesn't last. Walters gets the best full-season weed control -- plus more pumpkins -- in fields where he adds a little weed killer.
"A pre-emergence herbicide mix of clomazone, ethalfluralin and halosulfruron provided the best overall control of broadleaf and grass species, and the greatest yields came when we used this mixture with a winter rye cover crop," he said.
Walters' current pumpkin research focuses on fertility management in no-till.
"When you leave mulch on the soil, it ties up a lot of nitrogen," he noted. "We're evaluating the effects of different rates of fertilizer application on small, medium, large and gigantic pumpkins hoping to find the optimal system in all categories."