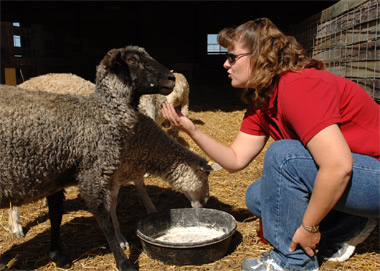 Bah, bah, black sheep — Animal scientist Rebecca L. Atkinson has a word with one of five new Lincoln longwool ewes that will help students at Southern Illinois University Carbondale learn about small ruminants. (Photo by Jeff Garner) Download Photo Here
October 11, 2010
New animals let students flock to sheep science
CARBONDALE, Ill. -- The College of Agricultural Sciences at Southern Illinois University Carbondale is looking a bit sheepish these days. Five Lincoln longwool ewes — four white ones as well as the proverbial black sheep — moved into the University Farms' Beef Center Aug. 26.
"In the immediate future, we'll be using them mostly for teaching and training purposes, though at some point we may use them in ruminant nutrition trials," said animal scientist Rebecca L. Atkinson. "We'll also be featuring them at the school tours we host every fall and spring for local elementary school students."
---
Media Advisory
Reporters, photographers and news crews are invited to watch animal science students grapple with their slipperiest lab assignment at 1:30 p.m. Thursday, Oct. 21, at the University Farms' Beef Center on Union Hill Road. Students will be playing "Flock the Flag," where the first step involves catching a sheep. For more information, contact Rebecca L. Atkinson at 618/453-1765.
---
While the college once offered courses related to sheep, the last little wooly left campus years ago. But growing interest in smaller, more manageable ruminants among Midwest livestock operators has prompted college officials to take a second look at sheep.
"We have some cattle farmers interested in transitioning to sheep and goat production as their economic value is starting to increase," Atkinson said. "A growing number of ethnic groups has meant more interest in the meat, and hair sheep also have become more popular."
Last year, animal science faculty included a section on sheep in one of the department's introductory courses, using animals borrowed from an Anna livestock producer in the lab sections.
"We have a lot of kids without a farm background in that course, and they really enjoyed it," Atkinson said. "I think it's because the larger animals — cows, horses — are a little more intimidating. Sheep are small and easy to handle. As part of the section on animal handling, we played a game called 'Flock the Flag' where the students had to capture a sheep, halter it and lead it down an alleyway to retrieve a flag. They really got into it."
But it was a partnership with the Illinois National Guard's newly formed agricultural development team that sealed the deal. The team, which heads to Afghanistan next spring to help the country's farmers remake their agriculture sector, is getting hands-on training from college experts in a variety of subjects — including animal handling — before they go. 
"In Afghanistan, you're more likely to see sheep and goats than cows and horses," Atkinson said. "For the workshops we did in August, we'd borrowed some fainting goats, but they weren't ours, so we hesitated to do anything that might rile them up. This way, we can allow the soldiers to wrestle the sheep."
Sheep wrestling isn't as easy as you might think.
"Lincolns aren't flocking animals, so you can't just herd them into a corner and grab one," she said.
The as-yet unnamed Lincolns — a sturdy breed whose wool suggests dreadlocks — came from Murphysboro breeders who have focused on producing animals that do well in the area's hot, humid summers. Right now, Atkinson is housing the sheep with the college's cattle.
"They were already trained to the kind of fencing we use with the cattle, so we didn't have to make any modifications to take care of them," she said.
"The mix of species also can improve pasture. Sheep are active grazers, and they'll eat what the cattle won't — they'll even eat weeds."