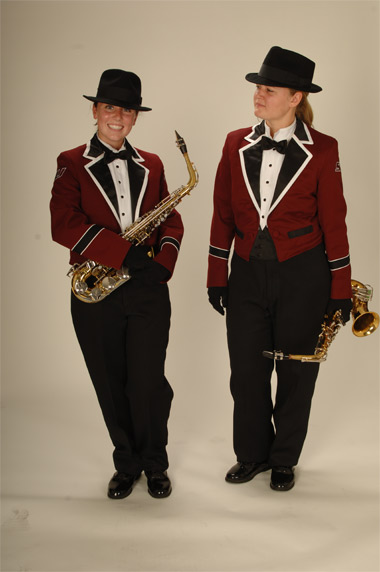 October 06, 2010
Donations fund Marching Salukis' new uniforms
CARBONDALE, Ill. -- The clothes may not make the band, but for a group as visual as the Marching Salukis, it sure doesn't hurt to look sharp.
The Marching Salukis of Southern Illinois University Carbondale sported new uniforms at the opening of the new Saluki Stadium, and now, a few weeks into the season, they are ready for this weekend's Homecoming festivities.
"The new uniforms are a lot sharper-looking," Kevin Maloy, a sophomore in civil engineering from Galesburg and a sousaphone section leader, said. "The small things, the details, make a big difference, too."
It wasn't purely aesthetics that prompted the uniform overhaul, though. George Brozak, Marching Saluki director, said the older uniforms had just plain been worn out by years of use.
"The old uniforms were mildewed and stained and just terrible," he said. "The new uniforms look 1,000 percent better and they are easier to wear. The jacket is really everything -- the jacket, the tux front, the studs, the vest -- it's now one piece that the kids 'zip' into, so it's much easier."
Another advantage, Brozak said, is that the pant-legs on the new uniforms have a series of snaps inside the leg, which makes altering for height, well, a snap.
"Stanbury (the uniform manufacturer) engineered a completely new uniform for us," Brozak said.
Best of all, Brozak noted, the uniforms were paid for by donations.