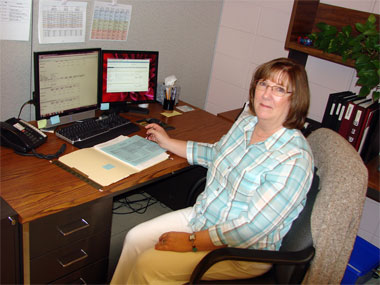 September 22, 2010
Ten questions with ... Marilyn Updike
Job on campus/department you work in: Program Advisor/Engineering Outreach Programs
How long at SIUC: Six years
Hometown: Geneva, N.Y.
When you were a youngster, what did you want to be when you grew up? Teacher
People don't know that you… Make jewelry
If you could choose another profession, what would it be and why? Interior designer, because I like to be creative and see the difference I can make.
What is something you still want to accomplish in life? Own my own business
What was the first "album" you ever bought, and was it an LP, 8-track or CD? My first LP was Crosby, Stills, Nash, and Young's "Déjà vu."
If you could pick an actor/actress to play you in a movie, who would you pick and why?
Meryl Streep. She is so adaptable and genuine but still humble.
What is one random fact about you? I have raised three boys.
What is your favorite food and why? Chocolate. Do I really need to explain why?!
What is your pet peeve? I have many. Bad drivers and not cleaning up after yourself are in my Top 5.
Favorite cartoon character? Why? Bugs Bunny, because he is so aloof and quick-witted.