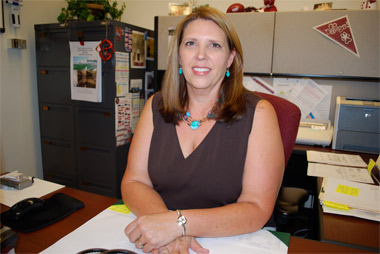 September 15, 2010
Ten questions with ... Kelly Paxton
Job on campus/department you work in: Purchasing officer, Purchasing Department.
How long at SIUC: Four years.
Hometown: Du Quoin.
When you were a youngster, what did you want to be when you grew up? A mother -- mission accomplished -- I have three sons, a daughter and two stepsons.
People don't know that you: Collect Coca Cola and St. Louis Cardinals memorabilia.
If you could choose another profession, what would it be and why? It would be in the health care field -- probably a pediatric nurse.
What was the first "album" you ever bought, and was it an LP, 8-track or CD? Styx, "The Grand Illusion," and it was an LP.
If you could pick an actor/actress to play you in a movie, who would you pick and why? Julia Roberts -- I love her smile and the laugh.
What is one random fact about you? I have always loved Corvettes and plan on owning one someday. Even if I am the gray-haired grandma cruising with my grandkids!
What is your favorite food and why? Wine! Is that technically a food? Otherwise it would be my husband's smoked pork loin.
Who has inspired you, and how? My two cousins who are breast cancer survivors. They have lost one sister to breast cancer already. They still manage to remain positive and live life to the fullest.
What is your pet peeve? The ungrateful attitude of people who do not realize how blessed they really are.