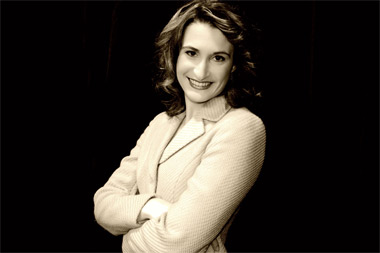 September 03, 2010
Alumna Britten Follett to deliver Tenney lecture
CARBONDALE, Ill. -- A Southern Illinois University Carbondale alumna returns to campus to deliver the first of the 2010-11 University Honors Program Tenney Lectures.
Britten Follett, a 2002 summa cum laude graduate and noted Saluki volleyball player, is now a television news reporter and the co-author of the book "Who Killed Kelsey?" Her lecture, "Who Killed Kelsey: Broken Bones and a Broken System," begins at 7:30 p.m. on Sept. 16 in the Student Center Auditorium. There is no admission charge for this lecture.
Follett and her co-author, fellow television news reporter Cherokee Ballard, undertook their own investigation into the violent death of Kelsey Smith Briggs, an Oklahoma toddler who was beaten to death after months of documented child abuse. The two reporters brought to light mistakes in the investigation and in the management of Kelsey's case by child protective services.
Follett initially covered the story as part of her duties as a news reporter. Her continuing coverage of the story garnered her an Edward R. Murrow Award, three Emmy nominations and six state and regional broadcast awards, including Oklahoma's 2005 Best Investigative Report.
Ballard began her television news career more than 20 years ago. One of her recent projects was her personal 2002 weekly series, "Cherokee's Journal: Lessons in Living with Cancer." A native member of the Cherokee Nation, Ballard was part of the 2001 Smithsonian Museum photographic exhibit, "Cherokee Nation: A Portrait of a People." Her awards include the Cherokee Nation Medal of Honor Award and the Oklahoma Woman of the Year award.
Follett's lecture examines such issues with the case as: why a judge sent the little girl home to her mother when her mother had a confirmed abuse case against her and why a state worker failed to notice anything amiss even on the day Kelsey died. Follett will describe first-hand accounts from law enforcement interrogations, including secretly recorded video from the interrogations, and behind-the-scenes correspondence and the stories of some of those people who failed to protect a small child.
The Charles D. Tenney lectures honor the former University vice president and provost, who served from 1952 to 1971.
For more information, contact Lori Merrill-Fink, director of the University Honors Program, at 618/453-1688 or lomerfi@siu.edu.