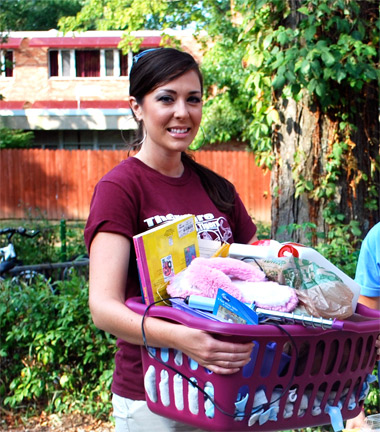 September 01, 2010
Ten questions with ... Laura Taylor
Job on campus/department you work in: Director of Member Services, SIU Alumni Association
How long at SIUC: Two years in my current position, two years of grad school!
Hometown: Anna, Ill.
When you were a youngster, what did you want to be when you grew up? An astronaut. And yes, I got made fun of a lot…..especially after I came back from Space Camp.
People don't know that you … Love to travel! I've been to Ireland, France, Germany, Austria, Italy and Switzerland….but I still want to see more. The world is out there for us to explore and discover and I can't wait to take my next trip.
If you could choose another profession, what would it be and why? A bartender in the Cayman Islands. It's a tough job, but somebody has to do it.
What is something you still want to accomplish in life? I want to invent something. You know….one of those million dollar ideas that make you say, "Geez! Why didn't I think of that?" I'm pretty sure I've got some good ones cooking…..only time will tell!
What was the first "album" you ever bought, and was it an LP, 8-track or CD? Boyz 2 Men…my first CD! My closet addiction is that I still listen to it…ssssshhhhhh.
If you could pick an actor/actress to play you in a movie, who would you pick and why? Wait…is this a paid gig? If so, then I pick me. Otherwise…..I would say Anne Hathaway….she's a perfect combination of beauty and brains – a great person to look up to.
What is one random fact about you? I'm a triple legacy of Southern. My grandmother, father and mother all attended SIU and we're a proud Saluki family.
What is your favorite food and why? My mom's Hawaiian Chicken. I practically beg for it when I go home. Speaking of which…mom…if you're reading this…
Who has inspired you, and how? Dee Dee Meyers. She was the first female press secretary of the White House and worked for the Clinton administration. She's one of the brilliant minds of our time in the political communications world and she forged a new path for women.
Favorite cartoon character? Why? Miss Piggy….yeah..I know she wasn't a cartoon, but you gotta love a woman who doesn't give up on what she wants, wears pearls with elbow length gloves, and finishes her plate at dinner.