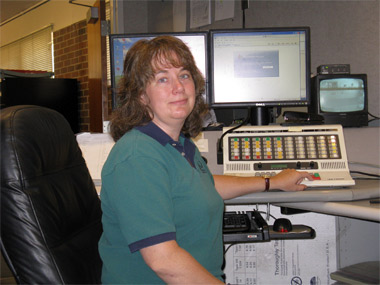 August 04, 2010
Ten Questions with ... Teresa Braswell
Job on campus/department you work in: Police Telecommunicator, Department of Public Safety
How long at SIUC: Almost 17 years
Hometown: Herrin
When you were a youngster, what did you want to be when you grew up? An artist
If you could choose another profession, what would it be and why? I enjoy what I do, but if I had to choose another profession it would be something art related. I have always had a real passion for art.
What is something you still want to accomplish in life? I would like to have a children's book published.
People don't know that you … Once pierced a guy's ear to my latex glove when I worked in a jewelry department … very embarrassing!
Who inspired you and how? My parents have always inspired me. My mother inspires me with her true devotion to God and her family. They have always come before anything in her life. My father inspires me because he is the kind of person who can do anything he sets his mind to. He is one of the best artists I have ever met. That's probably why I am so passionate about art, myself.
What was the first "album" you ever bought, and was it an LP, 8-track or CD?
It was an LP, Van Halen's 1984. I was totally in love with David Lee Roth.
If you could pick an actor/actress to play you in a movie, who would you pick, and why? I would pick Sandra Bullock. I think she is a great actress. She's funny, believable, and very pretty.
What is one random fact about you? I'm very shy around people until I get to know them.
Cats or dogs? Dogs
What is your pet peeve? Littering