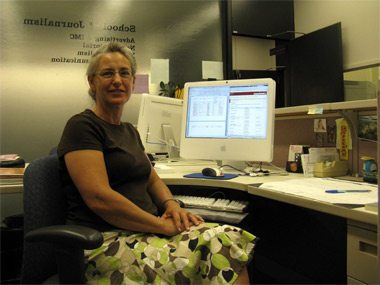 July 21, 2010
Ten Questions with ... Sherida Evans
Job on campus/department you work in: Office Support Specialist / School of Journalism
How long at SIUC: 10 years in January 2011
Hometown: Pinckneyville, but graduated from Elverado High in Elkville, Ill.
When you were a youngster, what did you want to be when you grew up? A pediatrician; instead, I decided to support them.
What is something you still want to accomplish in life? My bucket list is to ride a horse in all 50 states; at the rate I'm going, I can't die till I'm 150.
People don't know that you … Carry dual US/Canadian citizenship -- my Dad was born outside Montréal.
Who inspired you and how? My grandmothers. One had a yen for travel and was the first bi-lingual person I knew; the other whet my desire for sewing and quilting.
What was the first "album" you ever bought, and was it an LP, 8-track or CD?
I didn't buy; I swiped 8-tracks from my step-brother. He liked Spinners and Stylistics.
If you could pick an actor/actress to play you in a movie, who would you pick, and why? Sandra Bullock -- her characters aren't afraid to be real and they laugh at their shortcomings.
What is one random fact about you? I've been on four missions trips to Central America and I'm trying to learn Spanish. I've not only been bitten by the travel bug, I've been mauled by it.
Cats or dogs? Horses -- we have four, but also have three dogs and two cats.
What is your pet peeve? Drivers who are so busy talking on the phone they don't notice they almost hit you.
What would you like your gravestone to say about you? O Death, where is thy sting?