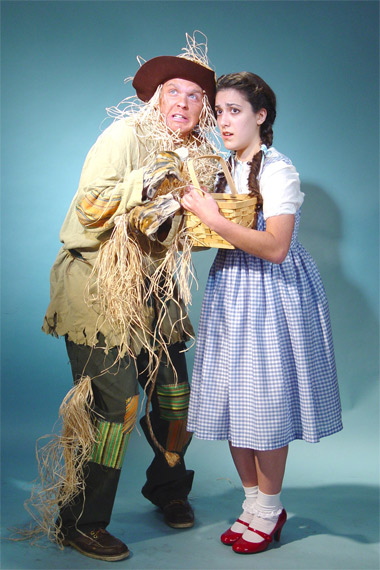 Wizard of Oz comes to the McLeod Summer Playhouse -- Josh Kimball and Tannaz Pourboghrat are The Scarecrow and Dorothy in the Carbondale Community Arts co-production of the family musical at Southern Illinois University Carbondale's McLeod Theater. (Photo provided) Download Photo Here
July 20, 2010
'Wizard of Oz' coming to McLeod Theater
CARBONDALE, Ill. -- We're off to see the Wizard at Southern Illinois University Carbondale's McLeod Summer Playhouse.
The Wizard, and witches, winged monkeys, and a bunch of munchkins are all part of the classical family musical "The Wizard of Oz," coming to the McLeod Theater July 29-Aug. 2. The all-generation favorite, produced in conjunction with Carbondale Community Arts (CCA), is this year's All Southern High School Theater Project, and also the closing project for the Summer Playhouse 2010 season.
" 'The Wizard of Oz' is a fantastic piece for the stage," Nancy Stemper, CCA executive director said. "It has action, adventure, magic, and all those great songs."
The production is the Royal Shakespeare Company's adaptation of the movie classic, based on L. Frank Baum's children's novel. Audiences can expect such well-known and well-loved songs as "Over the Rainbow," "Ding, Dong! The Witch is Dead," and "If I Only Had a Brain."
The CCA All Southern High School Theater Project offers a professional theatrical experience for regional high school performers. Previous productions include "West Side Story," "Beauty and the Beast," "Little Women," and "Aida."
This year, the cast includes students from Carbondale, Carterville, Johnson City, Murphysboro, Du Quoin, Benton, Harrisburg and Sparta. For the first time in CCA AHSTP history, the cast also includes students younger than high schoolers. Several children, ages 6 to 12, put in special appearances as citizens of Munchkinland.
Putting a movie musical on stage is no easy task, noted William Snyder, set designer.
"It's a challenge to capture the power of the movie visuals and make it practical for the stage," he said.
That means lots of sets and lots of set changes. Bryce Dale Allen, technical director, said he is nearly running out of room.
"Sometimes it looks as if the tornado hit the scene shop instead of Kansas," he said.
Jenny Holcombe, director of CCA's "Little Women" and this year's "The 25th Annual Putnam County Spelling Bee," directs, with Laurie Lewis conducting the orchestra and providing musical direction.
"The Wizard of Oz" performs July 29 to Aug. 2 with performances at 7:30 p.m., except for Sunday, which is a 2 p.m. matinee.Tickets to the production are $16 for adults and $8 for
students. Tickets can be obtained from the McLeod Box Office Monday through Friday, 12- 5:30 p.m., in person or by phone at 618/453-3001.
Here is a list of the cast, by hometown:
Benton
Josh Kimball -- Hunk/Scarecrow
Carbondale
Tannaz Pourboghrat -- Dorothy
Emily Fink -- Aunt Em/Glinda
Portia Goodin -- Miss Almira Gultch/Wicked Witch
James Repp -- Hickory/Tin Woodsman
Members of the Ensemble: Hannah Borowitz, Kyger Guyton, Eleanor Hughes, Sabrina LeBlanc, Benjamin Pellow, Madison Pellow, Aubrianna Rathunde, Marian Repp, Dezhane Rouse, Francesca Sanchez
Carterville
Jeff Watts -- Uncle Henry/Emerald City Guard
Rachel Dunning -- Jitterbug
Du Quoin
Elizabeth Sheppard -- Ensemble
Harrisburg
Kristin Doty -- Ensemble
Herrin
Israel Lopez -- Zeke/Cowardly Lion
Johnston City
Skylar Drummond -- Professor Chester Marvel/Wizard of Oz
Jordan Ray -- Ensemble
Murphysboro
Kelli Cotter -- Ensemble
Sparta
Zach Coop -- Ensemble
Munchkin Townspeople include: Berget Borowitz, Hannah Brown, Adrian Bryson, Kelli Cotter, Morgan Goodpastor, Alexis Jones, Shelby Jones, Ruby Varns, Shawn Veras, Amina Wilson.