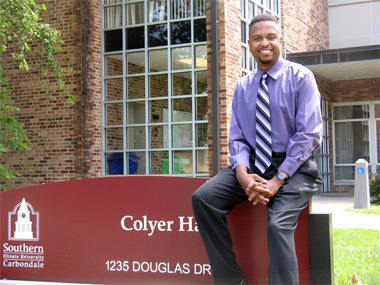 July 14, 2010
Ten Questions with ... Greg Scott
Job on campus/department you work in: Director of Development Communication for the Division of Institutional Advancement and the SIU Foundation

How long at SIUC: 17 years
Hometown: Du Quoin
When you were a youngster, what did you want to be when you grew up? A businessman … I wanted to own a sports store!
If you could choose another profession, what would it be and why? I still wouldn't mind owning a business. But I dream of hosting a talk show of some sort. I'm not talking about the "theater" you see on some talk shows; I would be more interested in interviewing people about various aspects of their profession.
What is something you still want to accomplish in life? I suppose I should grow up, get married and have children at some point. We'll see.
People don't know that you … were named after legendary actor Gregory Peck.
Who inspired you and how? My parents … they believed in me and said I could be anything I wanted to be.
What was the first "album" you ever bought, and was it an LP, 8-track or CD? Chicago, CD
If you could pick an actor/actress to play you in a movie, who would you pick, and why? Wayne Brady. I've been told that I look like him; he appears to have the ability to adjust to various roles. (Plus, his sense of humor would come in handy playing me in a movie. LOL)
What is one random fact about you? I love spicy food and pour hot sauce on just about everything I eat. My preference is Italian food.
What is your pet peeve? I hate it when people talk on their cell phones while a cashier is trying to provide a service to them in a grocery store. One word: RUDE!
What would you like your gravestone to say about you? "He lived life to the fullest and gave it his all."