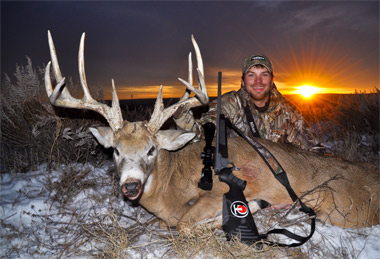 July 14, 2010
Graduate's hunting prowess gets national exposure
CARBONDALE, Ill. -- You just never know where you're going to find a Saluki. Flip on your television and turn to a hunting show and you just might see recent Southern Illinois University Carbondale graduate Randy Birdsong.
The spring College of Business graduate will be the focus of an episode of ESPN's "Whitetail Country" later this year. Viewers will discover not just how passionate Birdsong is about hunting whitetail deer, but also how his time at SIUC and the business finance degree he just completed are propelling his career plans.
The show airs at 6 a.m. Sundays through Dec. 26 on ESPN 2 Outdoors. According to Tom Miranda, the show's host and producer, the episode featuring Birdsong will air sometime in late November, though the exact date is not yet finalized. The focus is on hunting whitetail deer and Birdsong will tell how he became such a proficient deer hunter.
The biographical episode also includes a "day in the life of" segment about Birdsong, of Carbondale. Chris Douglas of Ballistic Productions in North Carolina, a field producer and contractor for Miranda, shadowed Birdsong around the SIUC campus this spring. He praised the "beautiful campus" and said while the show focuses on Birdsong as a "whitetail fanatic" it will also show that he leads a "very ordinary life." Douglas filmed Birdsong going to classes, studying and juggling all the responsibilities of an ambitious student with his hunting endeavors.
"It was tough keeping up with everything while I was in school," Birdsong admitted. "It was a lot to manage with school, travel, hunting and everything. But, that was part of the appeal, the whole management and challenge aspect."
Viewers will learn how Birdsong grew up enjoying hunting, particularly whitetail deer, and they'll see clips of him taking a nice buck.
"Birdsong was chosen for the show for his ability to hunt whitetails and his past successes in the woods," Miranda said. Miranda said Birdsong is one of the youngest hunters ever featured on "Whitetail Country." According to the show's website, "Each week viewers will see great hunts and get an up close look at one of the pros at home."
In addition to his starring role in one episode, Birdsong will offer his insights and more information on two or three other episodes of the show this season, according to Miranda. Program editing is under way at present so Miranda couldn't be more specific.
Miranda produces numerous television shows including "Territories Wild," "Whitetail Country," "Strategies in the Wild" and "Pro Hunters Journal" on ESPN as well as "World Class Bowhunting," "Dominant Bucks," "Hunt Masters" and "Beyond the Lodge" for the Outdoor Channel. "Whitetail Country" premiered in 2003 and has a substantial fan following.
Birdsong, the son of Travis and Remia Birdsong of Poplar Bluff, Mo., has hunted since the age of five. Hunting in 15 different states and two countries, he's laid claim to 20 record-book size deer. He currently leases property for hunting but is always on the lookout for a great spot for the next hunt.
"It's my lifestyle. My whole life pretty well revolves around deer hunting. I've grown up loving it," Birdsong said.
Birdsong's television career isn't limited to "Whitetail Country" either. He'll be on the upcoming season of The Outdoor Channel's "Realtree Whitetail Freaks" too. His online biography on the show's website calls Birdsong "a regular 20-something mid-western guy from Southern Illinois that eats, breathes and sleeps big mature whitetails!"
Birdsong frequently hunts with friend Jason Bosaw and they'll appear together regularly on "Whitetail Freaks." Birdsong said the show is "100 percent whitetail deer hunting" with much of the filming done right in Illinois. He is one of eight regulars in the "cast" and will be in about 10-12 episodes this year on the show that he said is "the No. 1 show on the Outdoor Channel." That show airs at 5:30 a.m. Tuesdays, 3 p.m. Thursdays and 1 p.m. Sundays, Central time.
He said his foray into television began with "extreme luck" mixed with a bit of guts and persistence. Like many a youngster, he watched shows about what he loves. While the other young boys were hooked on professional baseball or football broadcasts, Birdsong was all about deer hunting. He finally made a demo tape and passed around copies, sending some to various television shows until he finally caught the eye of someone at "Whitetail Freaks."
He made his first appearance on the show while in high school and became a regular about five years ago. That led to the upcoming role on "Whitetail Country," the longest running outdoors show on ESPN 2.
And that's not all. Birdsong said he's just finalized negotiations for his new television show, "Headhunters", that will hit the airwaves at 3 p.m. Sundays beginning July 31, 2011, on the Outdoor Channel. He said the reality television show will feature he and three other hunters travelling around the country in quest of all different types of game. See www.headhunters-tv.com for a preview.
Birdsong will handle all of the business aspects of the show and production, including selling advertisements, in addition to hunting and traveling. But, he's confident his time at SIUC has totally prepared him for it.
"I love deer hunting so that part of the equation comes naturally, but the education I got at SIUC is going to help me make a full-time, successful career doing what I love to do," Birdsong said.