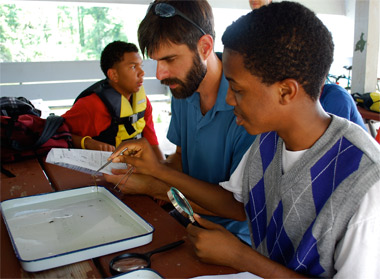 The Geosciences at Project Upward Bound -- Matthew Therrell, assistant professor in the Department of Geography and Environmental Resources at Southern Illinois University Carbondale, works with Chris Huff, from Cairo, to identify insects and other small creatures included in a random sample from the campus lake. In the background, Jimmy Ellis, also from Cairo, waits for his turn in the paddleboat to draw samples. (Photo by Andrea Hahn) Download Photo Here
July 14, 2010
Upward Bound students find learning is fun
CARBONDALE, Ill. -- One day the "classroom" includes a paddleboat, another day a hunt for treasure.
For the students in the geosciences studies portion of Project Upward Bound at Southern Illinois University Carbondale, learning is such an adventure they might even mistake it for fun.
---
Media Advisory
Reporters, photographers and camera crews may join the Project Upward Bound students as they learn about the geosciences. The class, which meets 1-3 p.m. Mondays through Thursdays, continues until July 22. Contact Matthew Therrell at 618/453-6024 or therrell@siu.edu or Justin Schoof at 618/453-6019 or jschoof@siu.edu to make arrangements.
---
Matthew Therrell and Justin Schoof, both assistant professors in the Department of Geography and Environmental Resources, launched an introduction to the geosciences for the residential Project Upward Bound summer program this year. The three-year project is part of a National Science Foundation grant-funded program, "Opportunities for Enhancing Diversity in the Geosciences."
SURRGE -- Southern Illinois Undergraduate Recruitment and Retention in Geoscience Education -- as the program is known, offers classroom and field experience to selected students in Project Upward Bound as part of its mission.
"The students really seem to enjoy the hands-on part of this experience," Therrell said. Some of the field projects include pulling samples of water from the campus lake to test for bacterial content and pH levels, examining aqua-life in other samples, and coring trees to read rings and learn how trees reflect climate changes. The students seemed to especially enjoy a day spent geocaching -- using GPS devices to hunt for treasure.
"We don't even have computers out here with us," Therrell joked as he and several students examined dragonfly larvae and baby minnows in the samples pulled from the lake during a recent class.
A student, oblivious to his comment, answered, "Look, here's another one," as he used tweezers and a magnifying glass to examine and identify a water bug.
Schoof said the immediate goal is to introduce students to areas of study within the geosciences by offering experiences that take the students out of their usual habits.
"We want them to try things they might not normally do -- like examine lake water," he said. Ultimately, perhaps some of these students will turn a day's program into a passion and a career. Schoof said the immediate goal is teaching the students about the different branches of geosciences, and making them aware of possible careers in the field.
This year's students are from Cairo, Carbondale, Murphysboro and Ullin.
Upward Bound helps students prepare to move from high school to college. All students in the program participate in at least one summer program. Students have morning classes in college preparatory mathematics, science, literature, and English and Spanish composition. Afternoons may include fine arts, library skills, career awareness or specialized courses such as this geosciences course. Evenings include a balance of study-time and recreation.