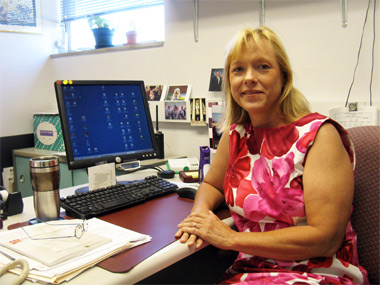 July 07, 2010
Ten Questions with ... Patty Bateman
Job on campus/department you work in: Assistant Coordinator, Traffic and Parking Division
How long at SIUC: 30 years
Hometown: Murphysboro
When you were a youngster, what did you want to be when you grew up?
A restaurant health department inspector
If you could choose another profession, what would it be and why?
Customer service training professional. I am very passionate about excellent customer service. I wish I could inspire and train others to provide the best service possible.
What is something you still want to accomplish in life?
Personally I would like to be an accomplished dog handler for agility dog shows.
Professionally I would like to be instrumental with recruitment and retention. I am very passionate about our students' needs.
People don't know that you …
I am the committee chairman for the Friends of Murphysboro Dog Park Initiative. And my dog Chance is a rare breed, Petit Basset Griffon Vendeen (PBGV for short)
Who inspired you and how?
My husband inspires me to be the best person I can possibly be. He is the kindest and most considerate person I know.
What was the first "album" you ever bought, and was it an LP, 8-track or CD?
In a Gadda Da Vida by Iron Butterfly on LP.
If you could pick an actor/actress to play you in a movie, who would you pick, and why? Reese Witherspoon, she's perky, full of energy and I love her smile.
What is your pet peeve?
People who drive in the left lane unnecessarily.
Favorite cartoon character?
Wiley Coyote
What would you like your gravestone to say about you?
She lived, she laughed and she loved!