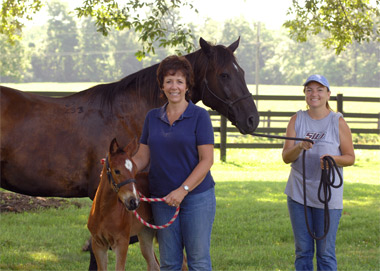 Gift horses -- Equine science program head Sheryl S. King (left) shows off the Horse Center's newest foal, while herdswoman Sheila R. Puckett keeps the foal's mom in check. (Photos by Russell Bailey) Download Photo Here
July 07, 2010
University's horse center welcomes 'splashy' foal
CARBONDALE, Ill. -- One of Southern Illinois University Carbondale's elite athletes gave birth last month. Those in a position to know say little Reneé (pronounce that "rah-NEIGH-H-H-h-h-h") likely will follow in her mother's hoofprints.
"As an athlete in competition she will be the kind of horse judges notice because of her color backed up by the form and body composition that will allow her to jump well," said Sheryl S. King, head of SIUC's horse program. "She's splashy!"
The offspring of an Irish sport horse stallion and a Selle Français mare -- both six-figure gifts to the University -- this weeks-old reddish foal with a black mane and tail and white star-strip and snip represents a new direction in the horse center's breeding program, which has traditionally focused on producing racing thoroughbreds and Western-style stock horses.
"Those just aren't selling any more," said King, who uses proceeds from annual yearling sales to help finance the teaching and research portions of her equine science program.
"The race horses aren't holding their value, and people who want 'cowboy horses' get them from Texas, so we needed to find something else that would be in demand. We decided that would be the sport horse, used for Olympic-style equestrian events -- show jumping, dressage and so forth."
SIUC's Irish-bred stallion, Curraheen Gold, valued at more than $100,000, came to Carbondale two years ago at the age of 17.
"He was donated as an 'elder statesman,' but we've already bred him to some of our thoroughbreds and warmbloods (sport horse types), " King said. "We've even bred him to one of our paint horses, so we currently have for sale a black-and-white spotted sport horse (take a look at http://www.youtube.com/watch?v=EFwJZ5xV2IA), though we've since learned that sport horse buyers don't much like spots."
Opavia, the Selle Français (who goes by her "barn name,"Abby), arrived at SIUC in the spring of 2009. Imported from Czechoslovakia, she had had an illustrious career as a show jumper.
"She competed at the very highest level -- she could clear a 6-foot jump -- but she sustained an injury," King said. "While she's still sound and capable of jumping, she cannot take those very high fences, so her owner had to find a new home for her.
"We'd been looking for a high-quality brood mare for Curraheen. Once I saw the pictures -- well, not only was she one heck of an athlete, but she's pure beauty. It was a good decision. Her foal is gorgeous -- one of the prettiest we've ever had."
Reneé (given her barn name because she came out whinnying) is the "perfect cross" between her tall, light-boned dam and her substantial, powerful sire, King said.
"She's wonderfully constructed," King noted. "Her legs are absolutely straight, the angling of her bones in the shoulders and hips is perfect. It's the bone and muscle sinews that make the athlete."
But while it's what's inside that counts, Reneé is also pretty.
"She's got three different colors -- the red, the black and the white -- but she's also asymmetrical," King pointed out. "On one side of her body, she has white stockings, and on the other, they're black. She's the complete package."
Although a middle-aged mare and a first-time mom, Abby had no problems foaling, even though Reneé arrived two weeks before King expected her.
"It was a picture-perfect birth, and because she was a little small, she just shot out," King said. "We do a battery of tests on our newborns, and Reneé came out in the upper 95 percentile on all of them."
Reneé will hang out with her mom over the summer, then be weaned. Equine science students will continue her socialization until she's about 18 months old, when basic training will begin.
"That's all assuming no one buys her before then, though I suspect we won't have her long," King said. "She's up for sale at any time -- at the right price," King added with a smile.