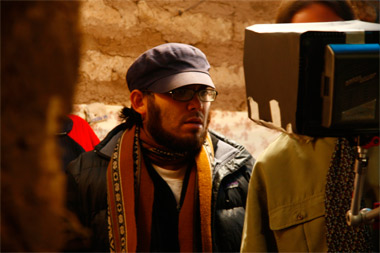 Aspiring director -- Josh Hyde, a graduate of Southern Illinois University Carbondale's cinema and photography program, will have his film, "Postales," premiere at the prestigious Edinburgh International Film Festival later this month. Hyde is a 1997 graduate of Carbondale Community High School. (Photo provided) Download Photo Here
June 10, 2010
Graduate's film to debut at international festival
CARBONDALE, Ill. -- The Midwestern work ethic that independent filmmaker Josh Hyde honed while in both high school and college is paying off for the Southern Illinois University Carbondale graduate.
Hyde's first feature film, "Postales," will make its world premiere at the 64th Edinburgh International Film Festival later this month. The prestigious 12-day festival in Edinburgh, Scotland, runs June 16-27. Screenings for Hyde's film is June 25 and 26.
The film's acceptance into the festival is "humbling," said Hyde, the writer and director.
"I'm very curious and excited because everything I can tell when talking to people is that this is a great festival," he said. "It's a very reputable film festival with a history of discovering cutting-edge talent."
The son of Mila P. Hyde of Makanda and Tom Hyde of Boulder, Colo., Hyde, 31, attended Unity Point Grade School and is a 1997 graduate of Carbondale Community High School. He earned a degree in cinema and photography from SIUC in May 2002.
"We're excited that yet another of our alumni is receiving important international attention for his film work," said Gary P. Kolb, dean of the College of Mass Communication and Media Arts. "Josh has been back to campus to visit on several occasions and it has been wonderful to track his progress as an up-and-coming filmmaker. He is a talented young man and we wish him every success in Edinburgh."
Shot in the Andes Mountains town of Cuzco, Peru, "Postales" is a 77-minute story of a young Peruvian boy who befriends the daughter of an American businessman planning to develop the land upon which the boy lives. The encounter culminates in "robbery, young love, and new-found cultural understanding," according to the film's publicist.
The 2008 film was shot in 27 days and builds upon Hyde's award-winning 2004 short film, "Chicle," he said.
His film partner, Dan Fischer, is the cinematographer/producer with "Postales." Hyde and Fischer, who earned his SIUC degree in cinema and photography in December 2001, met in their first 16mm class at SIUC.
The film also brought together several other SIUC alumni, including film editor Evan Smith and steadicam operator Joe Fitzgerald. Michael Deller, one of Hyde's classmates in high school, was the film composer, Hyde said.
"This film was a way for all of us to reconnect after film school, high school and life journeys and put something out that we believe in," Hyde said. "Not something that just pays the bills; but something that has meaning in our lives and careers."
The film will appear in the festival's "Rosebud" section, which the festival states is "the place to discover our tips for the top; first and second works from directors to watch." There are 38 films in the section.
"Personally, it means to me that I can make films with the best of them and furthermore, I can achieve this with or without the same resources given to people to make a film," Hyde said. "I've grown as a filmmaker and … hopefully new doors will open for me to continue making films. Now my next goal is to get distribution, which will be another level of achievement on the way to making our money back."
Film commissions help defray costs for some films from some countries. Hyde, however, is relying upon fundraisers, small donations, and community support.
"I feel at every turn we are the underdogs trying to push everything through but that's the nature of the industry," he said.
Hyde said he views filmmaking as a "lineage passed from one person to another." He credits several current and retired SIUC cinema and photography instructors for teaching him about passion for cinema and storytelling; respecting cinema and the power it has over its audiences; realizing that everything in great films must have meaning; and conveying solid ideas and themes in images.
"This became my foundation as I left SIUC," said Hyde, who is in the process of moving from New York City to Colorado.
Hyde considers associate professors William R. Rowley and Jyotsna Kapur, retired professor Charles A. Swedlund, and retired assistant professor Michael D. Covell, along with Jay F. Needham, an associate professor in radio-television, to be among his mentors.
Another important staple Hyde learned is the work ethic that his instructors instilled in him and other students, he said, noting he competes in various film festivals against graduates from film schools on both the east and west coasts.
"Coming from SIUC you think that because you are from the Midwest that these experiences don't relate but you realize that the hard work and tools they give us apply universally," he said.
Hyde recalls his fascination with films and filmmaking at a young age, staying up late and sneaking from his room to watch films. While in high school he studied Spanish and French along with taking art classes when they fit into his schedule between advanced math and English classes. He also was involved with the student senate, Model UN, and soccer. Hyde minored in Spanish and cinema while at SIUC.
Hyde first went to Peru after graduating from SIUC and directed the documentary "Despacho," which examined the "cultural exchange between western medicine and indigenous Peruvian shamanistic techniques," according to his biography. He then interned at Chicago-based Kartemquin Films, and entered the master of fine arts program at Ohio University in 2004.
Hyde said his other recent work includes assistant editor for an upcoming ESPN "30 for 30" documentary, "The Two Escobars," which airs later this month. He is also working on a documentary that focuses on an all-black high school basketball team in Durham, N.C., during the final years of integration in the mid-1960s.
More information on "Postales" is available at http://www.postales-themovie.com/.