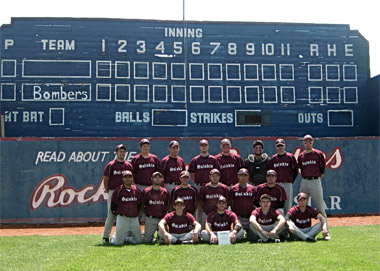 June 07, 2010
Club baseball team takes third at World Series
CARBONDALE, Ill. -- The Southern Illinois University Carbondale men's club baseball team took third place in the 2010 National Club Baseball Association Division II World Series recently in Johnstown, Pa.
And, team member Richard Serritella of Glenview earned recognition as the World Series player having the most stolen bases during the series. He totaled five steals, an average of one per game. The team earned the trip to Point Stadium by winning the District V title at League Stadium in Huntingburg, Ind. District V covers five Midwest states.
The SIUC team started off well, beating Macon State 5-3. Penn State University became their nemesis, beating the men from Carbondale in two games to advance to the championship game, where they lost to undefeated Northeastern University. The Salukis wrapped up with a record equaling Penn State's, but since both of their losses were to the Pennsylvania men, it dropped the Southern Illinois team to third place.
"The team did quite well," said Shane M. Bennett, assistant director of intramural sports and sport clubs for Recreational Sports and Services at SIUC. He praised team members for their hard work and dedication.
The club's overall season record was 18-5. Many of the team's 23 members played high school baseball, with some at the community college or even university level, before coming together as a club team.
Members of the 2010 Southern Illinois University Club Baseball Team, listed by hometown along with their major at SIUC, are:
Algonquin
• Michael Lobes, forestry.
Batavia
• Steve Berczynski, journalism.
Bismarck
• Lucas Haynes, accounting.
Bolingbrook
• Brian Judge, architectural studies.
Bridgeview
• Josh Roderick, marketing.
Buffalo Grove
• Adam Arvanitakis, business.
Carbondale
• Eric White, mechanical engineering.
Carol Stream
• Erik Napientak, electrical engineering.
Geneva
• James Bowe, journalism.
Gilman
• Luke Fink, journalism.
Glenview
• Richard Serritella, journalism.
Herrin
• Travis Cripps, biological sciences.
Hoffman Estates
• Chris Krasny, information systems technologies.
Itasca
• Brian Serrano, computer engineering.
Justice
• Kyle Stemmons, pre-major.
Moweaqua
• Ryan Bressner, exercise science.
Oak Forest
• Edwin Palacios, exercise science. Palacios is team captain.
Paris
• Ryan Furnish, mechanical engineering.
Prairie du Rocher
• Andrew Phegley, electrical engineering.
Shelbyville
• Elliott Uphoff, plant and soil sciences.
Sheridan
• Shayne Peterson, pre-major.
Wheaton
• Kyle Silbert, sports administration.
Wisconsin
Walworth
• Michael Miethke, management.