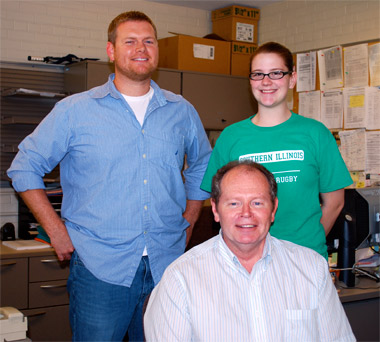 June 02, 2010
Ten questions with ... Marty Will
Job on campus/department you work in: Space Administrator III (sounds like I work for NASA), Classroom Scheduling, Registrar's Office
How long at SIUC: 26 years
Hometown: Murphysboro, I was born and raised on the banks of the Big Muddy River.
When you were a youngster, what did you want to be when you grew up? Airline pilot.
People don't know that you at one time considered becoming a priest.
If you could choose another profession, what would it be and why? Travel magazine photographer. I like to dabble in photography and I would love to travel and take pictures of all the wonderful places on our planet.
What is something you still want to accomplish in life? I have a banjo and a guitar and I would love to be able to play either or both to a skill level above where I currently am, which is HORRIBLE!!!
What was the first "album" you ever bought, and was it an LP, 8-track or CD? LP – Bob Dylan's Greatest Hits
Cats or dogs? Hmmmmnnn, well, they are both pretty tasty… At this point in my life, I do not have enough time to devote to a pet. When that time comes, I will take one of each please.
What is your favorite food and why? BBQ of the pork variety. Why, you ask??? Meat, cooked over a fire, slathered in sauce -- why NOT???
Who has inspired you, and how? My family. They are always there for each other.
What is your pet peeve? Rudeness.
Favorite cartoon character? Why? I have what I guess you would classify as two, but I count them as one – Calvin & Hobbes. They are best buds and they like playing pranks on each other. I have a lot of best buds in my life and they all know better than to turn their backs on me for a second.