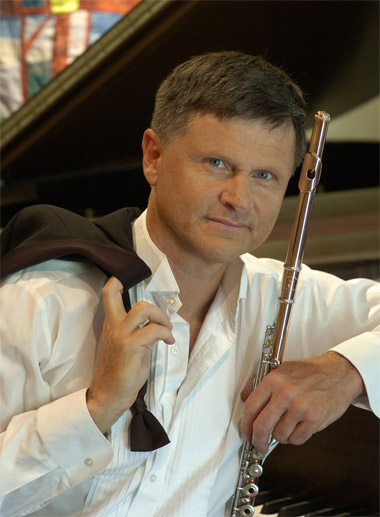 May 21, 2010
Authenticity key in new CD of Baroque music
CARBONDALE, Ill. -- When Douglas Worthen, lecturer in flute for the School of Music at Southern Illinois University Carbondale, set out to create a new recording of centuries-old music, he brought out a centuries-old instrument to do it.
Worthen and his recording partner, harpsichordist Ursula Dütschler, visited the Baroque period for their flute and harpsichord recording, choosing music -- Six Sonates, op. 91 composed by Joseph Bodin de Boismortier -- that was first heard in public in 1741.
And, just because authenticity matters, Worthen brought out his ivory traverso, or Baroque flute, an instrument made in 1755, give or take a year or two.
---
Media Advisory
Douglas Worthen is available to the media to discuss this recording, early music or early musical instruments. Members of the media may also request a free copy of the CD, "Joseph Bodin de Boismortier, Six Sonates op. 91." Contact Worthen at worthen@siu.edu to schedule an interview or request a CD.
---
Worthen's Baroque flute is a Richard Potter instrument. Potter, a London flute maker born in 1726, crafted the ivory instrument, as he did with all his fine instruments, for use at the royal court. Potter later invented a pewter plug key that revolutionized flute making and propelled him to pre-eminence in the 18th century London music scene. His instruments were part of the musical ensembles that debuted musical compositions from Mozart and Haydn.
"It definitely gives me a sense of history to play this Baroque instrument," Worthen said, his eyes sparking as he wondered aloud if it were possible Mozart himself might have touched the instrument or perhaps even played a few notes on it.
It isn't just because a musical legend such as Mozart occupied the same air space as the flute that Worthen uses it for this recording, though. It's because of the way it sounds. Modern flutes are made of metal. Ivory -- aged ivory, at that -- has a different sound. When de Boismortier wrote his sonatas for flute and harpsichord, an ivory flute is what he had in mind.
Worthen and Dütschler went for authenticity in recording space, too. They recorded the whole CD in one week at the Oud-Katholieke Kerk (Old Catholic Church) in Culemborg, Netherlands -- a city with so much history it still has a moat.
However, a modern recording of centuries-old music is not an exercise in sticking to the text.
"That run there, that trill, that was mine, I added that," Worthen said during a recent interview as the CD played in the background. "And there, too."
Worthen said the printed notes are only part of the whole musical picture. Composers at the time, including de Boismortier, expected that musicians would add to the composition as they performed it as a way of personalizing it.
The CD, titled Joseph Bodin de Boismortier, Six Sonates op. 91, presented by Musica Omnia, is available locally at Plaza Records and at PMac Music, both in Carbondale. Liner notes in the CD booklet detail de Boismortier's life and the significance of his musical compositions.
Worthen earned his graduate music degrees from the New England Conservatory in Boston and the Hartt School of Music. He performed regularly with the Handel and Haydn Society, and currently holds the first flute position with the Granite State Symphony Orchestra in Concord, N.H. His previous recordings include "Classical Flute Quartets" with the famed Mannheim Quartet.
Dütschler, a Swiss native, has distinguished musical performance and recording credits, including critically acclaimed recordings on the Claves label. She was part of the Complete Beethoven Piano Sonatas, recorded on period instruments.