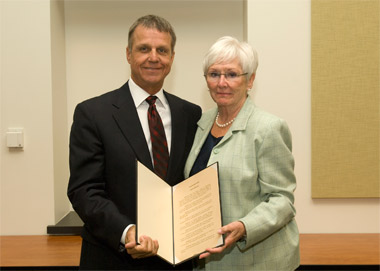 May 14, 2010
Memorial Resolution honors John Guyon
CARBONDALE, Ill. -- The Southern Illinois University Board of Trustees on Thursday, May 13, honored the late John C. Guyon.
Trustees approved a "Memorial Resolution" that Chairman Roger Tedrick presented to Guyon's widow, Patricia, during the board's meeting at the School of Dental Medicine in Alton. The resolution "celebrates the life of John Carl Guyon and his contributions to Southern Illinois University Carbondale," and expresses the board's "most sincere condolences and sympathy" to his family.
Guyon, former SIUC chancellor, died on March 17 at the age of 78. He led the University from 1987 to 1996, the second-longest tenure after Delyte W. Morris.
Guyon arrived at the University in 1974 as a professor of chemistry, and later became the first dean of the College of Science. He became associate vice president for research and dean of the graduate school in 1976, followed by posts as acting vice president and then vice president for academic affairs and research.
Guyon's term as president began in July 1987, nine months after being named acting president. At the time, the president was the top administrator for the SIUC campus and the chancellor led the entire SIU system. Later, administrative restructuring while Guyon led SIUC changed duties and titles.
During his tenure, Guyon oversaw growth in enrollment along with an expanding campus, including Life Science III and what is now known as the Dunn-Richmond Economic Development Center. Also, SIUC became the first American university to offer an off-campus program in Japan, beginning in May 1988. The University also launched a distance learning initiative, allowing students in the health care field to attend classes via interactive video linkages with the region's community colleges.
Guyon also focused on minority recruitment and advancement while chancellor. He created a task force to study the status of women at the University, particularly with regard to female faculty and student recruitment.
The first campus Clean Air Policy went into effect and Saluki Express began during Guyon's tenure.
The Carbondale chapter of the NAACP presented its first Image Award to Guyon in 1989, recognizing him for making a positive impact on the region's minority residents. The Illinois Committee on Black Concerns in Higher Education also honored him in 1989 for bringing African Americans into policy-making and administrative positions.
Guyon was honored in August with the dedication of the 200-seat John C. Guyon Auditorium in the expanded and renovated Morris Library. The John C. Guyon Scholarship annually provides financial assistance to a freshman student pursuing a career in science at SIUC.