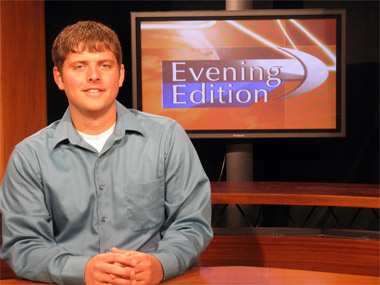 May 12, 2010
Senior refused to let near-fatal fall derail dreams
CARBONDALE, Ill. -- After Bret Beherns graduates from Southern Illinois University Carbondale this weekend, he will face the future with the same determination that enabled him to overcome a near-fatal accident almost four years ago.
Beherns will participate in commencement ceremonies with the College of Mass Communication and Media Arts at 1 p.m. on Saturday, May 15, in Shryock Auditorium.
Beherns was working a rope line in Rochester, Ill., during a summer job for a cell phone tower company on June 13, 2006, when he was catapulted about 80 feet. The fall left Beherns with numerous injuries, including fractures in both ankles and back, his right leg, a broken left leg and a torn aorta. His left leg required amputation about six inches below his knee.
For Beherns, a 22-year-old senior in radio-television from Mahomet, the questions went from "Why did this happen to Bret?" to "Why Not Bret?"
"I feel like God has given me the tools to be a hard worker and to reach for the stars. I've got some big goals and dreams and I'm certainly not going to let this stop me," he said.
After graduating from Parkland College in Champaign, Beherns, a 2005 Mahomet-Seymour High School graduate, transferred to SIUC's award-winning radio-television program. In his two years at SIUC, his accomplishments include a first place for outstanding sports reporting and second place for outstanding videography from the Illinois News Broadcasters Association, and a third place in the TV sports anchor category in the Broadcast Education Association's Festival of Media Arts. He is also the 2010 Department of Radio-Television Overall Outstanding Student.
Beherns' mother, Sandy, said her family, including his father, Brian, and daughter, Emily, a sophomore at Parkland College, rely upon their faith greatly. She also notes that her son "is an amazing, determined young man who doesn't settle."
"He just doesn't settle," she said. "His ambition, his dream has always been to be in radio-television. Always. And he's living that dream."
Her son's determination will allow Sandy to fulfill the pledge she made to doctors when they expressed concerns nearly four years ago about whether he would walk again: She will watch him dance at his upcoming wedding.
Beherns said he's always had the competitive drive to work hard. He played football and baseball and participated in pep band, marching band, theater and chorus in high school.
"I entered high school with this dream of playing on the varsity football team. The problem was I was 5 feet, 7 inches and 140 pounds and with no quickness. That's not going to get you anywhere. I've always had to work hard for everything in my life; nothing has ever come easy for me. I'm not one of those people that just picked up something in two weeks. I've always had to work hard."
Beherns spent 13 days in a medically induced coma and 54 days in the hospital. Doctors inserted four, two-inch screws in his lower back and two, two-inch screws in his right ankle.
With all that, Beherns remained determined. He took online classes at Parkland while initially recuperating from the accident.
Beherns' fiancée, Jenna Rieger, said she was worried when the accident happened, but that it strengthened the couple's relationship. She is a nurse at Carle Foundation Hospital in Urbana.
Beherns and Rieger were about to leave on a mission trip to Honduras when the accident occurred. On July 14, 2009, Beherns proposed to Rieger during another mission trip to that country.
This June 13 "will be a celebration day not only of our marriage but life in general," he said.
Jim Gee, news director for WSIU-TV Channel 8's River Region Evening Edition, said Beherns was involved with the newsroom from his first day there. He's eager, inquisitive and helps others, Gee said.
"He's a good leader, but he's also a good listener and a good learner," Gee said.
Graduating students are encouraged to not pay attention to market size when looking for their first jobs, but they also are not discouraged from pursuing jobs in large markets.
"We have a lot of talented students. But Bret is one of those who we think could be very successful. He could get his dream job right off the bat. He could be one of those rare ones who is the exception to the rule."
Beherns is one of those students who "gets it" when it comes to understanding journalism and the responsibilities that come with that career, Gee said.
"Bret gets it. He's one of those people who not only gets it, but can be supportive of everyone else, too."
Beherns recently interviewed for a job with a television station in Cedar Rapids, Iowa. In addition to his work with Evening Edition, he recently became a weekend producer at WSIL TV Channel 3 in Carterville. Beherns was an intern at the station last fall and worked as a sports photographer for a few months earlier this year.
Beherns has been "probably the best intern that we've had," said Darren Kinnard, the station's sports director.
"He has a unique quality in the fact that he wants to get better. He has a drive. He's constantly asking how he can do that better or how the story can be better," Kinnard said. "He's probably as advanced as any of the seniors that I've been associated it."
Kinnard agrees that Beherns' experiences resulting from the accident will help him in his career. Beherns is a good storyteller and videographer.
"I think you can go back to all that he's been through," Kinnard said. "He's a little different than a lot of seniors graduating, and he certainly understands where he's at and what it's taken for him to get there. He certainly appreciates it and he has a different drive than a lot of people, and that has to be a contributing factor."