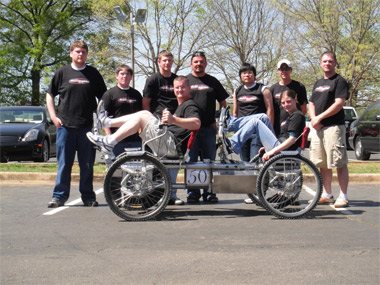 May 03, 2010
Moonbuggy race inspires students' ingenuity
CARBONDALE, Ill -- Southern Illinois University Carbondale student engineers took on the challenges faced by the Apollo astronauts during a recent competition that pitted their ingenuity in designing a "moonbuggy" against a simulated lunar obstacle course in Alabama.
The students participated in the 2010 Great Moonbuggy Race at the U.S. Space & Rocket Center in Huntsville, Ala. The NASA-sponsored event brought high school and college design teams from across the planet together for an engineering and problem-solving contest based on the famous lunar vehicle that helped U.S. astronauts explore the moon's surface.
The SIUC team placed sixth overall out of field of more than 30 teams. Rasit Koc, professor and chair of the Department of Mechanical Engineering and Energy Processes, said the accomplishment was the University's best showing since 1998 and represented its high-quality engineering program well.
"This is a great achievement and a big congratulation goes to all of them," Koc said. "(The team) put in endless hours to make this happen. In addition to their engineering achievement, I also noticed that their moonbuggy project was managed and organized very well. All of them have shown great management and leadership skills.
"Our team did an excellent job and I am very proud of their accomplishments," he said.
Team members included:
• Zachary Leffler, senior in mechanical engineering, from Newton
• Hunter Wickland, a senior in mechanical engineering from Libertyville
•Phillip Orman, a senior in mechanical engineering from Mattoon
• Dustin Kurtz, a senior in mechanical engineering from Paxton
• Jeongyong Choi, a senior in mechanical engineering, of Carbondale
•Lisa Dohn, a sophomore in computer engineering from Rolling Meadows
• Matt Lane, a senior in mechanical engineering from Olney
• Caleb McGee, a junior in mechanical engineering from Carterville
• Matthew McGuire, a sophomore in mechanical engineering from Raleigh
• Jason Doty, a junior in mechanical engineering from Mount Zion
•Katie Damron-Stokes, a senior in mechanical engineering from Carterville
•Mike Foreman, a senior in civil engineering from Joliet
The team's faculty adviser was Tsuchin Chu, professor of mechanical engineering and energy processes. Tim Attig, a tool and instrument mechanic in the mechanical engineering and energy processes department, also served as an adviser for the team.
The competition took place April 9-10.
The contest has its roots in the iconic Lunar Roving Vehicle that accompanied astronauts to the moon during the last three Apollo missions during the 1970s. The rugged-looking, four-wheeled contraption used electrical power and could fold-up for easier storage on the flight to the moon. Known informally as the "moonbuggy," the LRVs greatly increased the astronauts' ability to cover more of the lunar surface and conduct experiments in varying geologic environments.
Like its inspiration, the moonbuggies built by students for the competition had to overcome a series of engineering problems similar to problems faced by the original moonbuggy team that sent its invention to the moon. Although they are powered by humans instead of electricity, each moonbuggy must carry one male and one female student over a half-mile terrain course modeled on the moon's craters, rocks, lava ridges and lunar-soil inclines; 18 obstacles in all.
Leffler said the competition was challenging.
"The competitors had to design and fabricate a moonbuggy which must meet several constraints, including being able to fit in a 4-foot cube," Leffler said. "Drivers must be 15 inches off the ground, and there were several other constraints.
"Many teams do not complete the tough course due to mechanical failures," he said.
Judges time how long it takes each team to assemble their vehicle, taking it from the folded state to the drivable mode. The SIUC team took just 14 seconds to accomplish this feat, Leffler said, and took 5 minutes to complete the obstacle course.