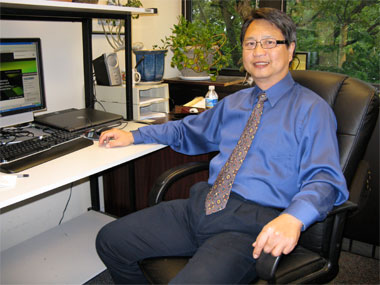 April 21, 2010
Ten questions with ... Stephen C. Shih
Job on campus/department you work in: Professor and Interim Director of the School of Information Systems and Applied Technologies in the College of Applied Sciences and Arts.
How long at SIUC: Almost nine years.
Hometown: Pingtung, Taiwan.
When you were a youngster, what did you want to be when you grew up? A robotic scientist.
People don't know that: I have visited more than 25 national parks in the U.S. and Canada.
If you could choose another profession, what would it be and why? I would be a film director, directing the production of Computer Generated Imagery (CGI) animation films. I've been so passionate about filmmaking and animation since I was a child.
What is something you still want to accomplish in life? Writing a few books in the area of my professional study.
If you could pick an actor/actress to play you in a movie, who would you pick and why?Tom Hanks. He is the finest actor of this generation. While he is hardly Patrick Dempsey, Brad Pitt, Johnny Depp or some other Hollywood heartthrob, he is a down-to-earth guy who has made an extraordinary career out of being extra ordinary.
What is your favorite food and why? Chocolate -- because "Life is like a box of chocolates. You never know what you're gonna get."
Who has inspired you, and how? Bill Gates and Steve Jobs -- not because they are rich and famous though. I am always inspired by their entrepreneurial spirit, innovative thinking and business acumen.
What is your pet peeve? Road hogs and Sunday drivers.
Favorite cartoon character? Why? Mickey Mouse. He is a character of big dreams and his dreams are universal. He is a little guy who brings a lot of joy and laughs into the world.