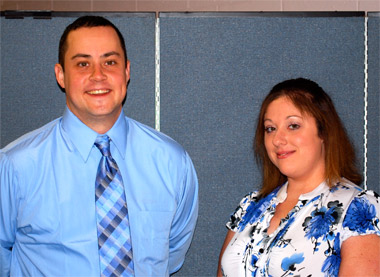 April 12, 2010
Conway-Peterson is Student Employee of the Year
CARBONDALE, Ill. -- Southern Illinois University Carbondale kicked off National Student Employment Week with a breakfast recognition ceremony today (April 12) for some of its top student employees with the annual SIUC Student Employee of the Year award presentation.
Shane B. Conway-Peterson, a senior from Moline double majoring in biological sciences and psychology, is this year's Student Employee of the Year. He is the son of Maureen Conway of Moline and Dale Peterson of Mt. Vernon.
Conway-Peterson works in the Office of Supplemental Instruction, where he holds the highest honor designation, Master SI Leader, according to standards set forth by the College Reading and Learning Association.
Lisa Peden, his supervisor and the director of the supplemental instruction program, praised Conway-Peterson for his "maturity, professionalism, and dignity" as he faced challenges in his job and provided a leadership role among his fellow employees.
"He engages the students with dialogue, he injects fun and humor into the sessions, and he genuinely cares about the academic achievement of his students," she said, especially noting his tact in dealing with personal issues with students in the study sessions.
Conway-Peterson initially joined the Office of Supplemental Instruction as an SI leader for two biology classes, BIOL 200A and 200B. Now he is a peer supervisor, which includes mentoring and supervising other SI leaders.
"He has shown the maturity and insight to help individuals with learning disabilities as well as students who have difficulty forming appropriate social relationships," Peden said. "He is sincere and diplomatic in his approach to students, thus effectively eliciting the desired behavior changes without hurting the feelings of the students."
"I was a bit stunned when I learned I had won the award," Conway-Peterson said, adding that he felt his co-workers also deserved recognition.
As the award winner, Conway-Peterson earned a cash award, and will have his name added to the permanent plaque bearing the names of past SIUC Student Employees of the Year.
Two finalists also received special recognition during the award ceremony. Hilary M. Mathis, a first-year law student and paralegal studies major from Ellis Grove, is the daughter of Karen and Scott Mathis. She works in the Department of Agribusiness Economics.
Nancy McCalla, who wrote a nomination letter supporting Mathis, said Mathis began her employment in the department asking "more questions than any student assistant I have trained to date" and became "the best student assistant I have associated with."
McCalla said she particularly appreciates Mathis' friendly attitude and willingness to help, be it with last-minute requests from faculty or scheduling difficulties with students or assistance to department visitors. She said Mathis has taken the initiative to add tasks to her roster of duties, and provided valuable organizational skills to improving the data-based management system.
The other finalist was Alexander C. Halbrook, a senior from Carbondale majoring in art. He is the son of Mari Schneider and Richard Halbrook, both of Carbondale.
Halbrook works in Recreational Sports and Services. His supervisor, Jeff Goelz, assistant director of the department, described Halbrook is a proven "educator, researcher and leader." Goelz referred to Halbrook as an expert on "American Red Cross certification procedures and course instruction," and a capable leader in managing the 50-member lifeguard staff at the Student Recreation Center. He praised Holbrook for his role in supervising the international adult swimming and youth swimming lessons programs.
Nominees for the Student Employee of the Year award were:
• Michael Bailey, Lesar Law Library, Peoria
• Greg Cresswell, Microbiology lab, Urbana
• Jennifer Cutrell, Chemistry and Biochemistry labs, Herrin
• April Nicole Dillard, Registrar's Office, Stonefort
• Elizabeth Doyle, Mass Communication and Media Arts office, Murphysboro
• Richard Dunham, College of Science Office of the Dean, Carbondale
• Molly Guinnip, Rehabilitation Institute, Marshall
• Quina C. Hamlin, Computer Science office, Chicago
• Jill Murphy, Air Force ROTC, Carbondale
• Jennifer Christine Spitzer, Laboratory Animal Program, Chicago
• Jessica M. Weiner, University Housing, Harvard
National Student Employment Week is April 12-17, a time meant to celebrate student employees for their commitment and service to the University, according to Toni Vagner, student employment services coordinator.