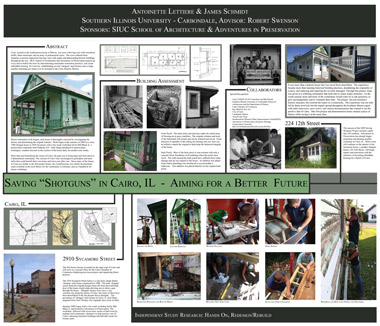 April 09, 2010
Students in select company at Posters on the Hill
CARBONDALE, Ill. -- Two architecture students from Southern Illinois University Carbondale expect their presentation will be a bit outside the norm when they join a select group of young scholars participating in the prestigious annual Posters on the Hill competition.
Antoinette Lettiere, a senior from Oak Lawn, and James Schmidt, a senior from Woodridge, will present their work, "Saving 'Shotguns' in Cairo, IL -- Aiming for a Better Future" to U.S. senators and representatives next week. Their colorful poster is filled with photos and information about Cairo's history, background information about an historic "shotgun" home, and the efforts of Lettiere, Schmidt and others to restore the home and spark additional restoration and redevelopment in Cairo.
From hundreds of entries across the country, the Council on Undergraduate Research selected the SIUC project as one of only about 60 to participate in the event. Lettiere and Schmidt will travel to Washington. D.C., this weekend. They will tour the Library of Congress and various museums and historical sights and participate in the Posters on the Hill activities, set for Monday and Tuesday, April 12-13. Lettiere's sister, Tina Adams, will accompany them.
"We're looking forward to making the SIUC School of Architecture something people have heard of outside of Southern Illinois," Lettiere said. "It means a lot for Jim and me for our school to get national recognition. Our work is a very different type of research than most of what will be there. Ours is more about doing than writing. Most of the projects there are science projects of some kind whereas ours is hands-on, redesign/rebuild. It is vivid and eye-catching and we think it will stand out. We are pretty excited."
Lettiere's involvement with Cairo began in the summer of 2008 when she signed up for the architecture elective course Preservation Summer. She was fascinated as she learned about Cairo, its history and architecture and efforts to restore, preserve and revitalize it.
"It was very hands-on learning," she said.
She continued her work as an independent research project and Lettiere won the 2009 Undergraduate Research Forum Independent Research Award at SIUC for her project "Saving Shotgun Houses in Cairo, Illinois." Along with winning the REACH: Research-Enriched Academic Challenge award came the recommendation that she apply for the 2010 Posters on the Hill competition.
In the meantime, Schmidt, the son of Kathleen and James Schmidt, joined Lettiere and others from SIUC, the Cairo community and Adventures in Preservation participants in the shotgun house restoration project during summer 2009.
"We did a lot of investigating, learning, talking and trying a little bit of everything to restore this house," Lettiere said. Much of their effort was devoted to restructuring the front and back porches, but they also re-glazed every window and secured period hardware and made every double-hung window functional. They made all sorts of repairs, including dealing with siding and flooring issues.
"We learned a lot. We realized that even if a house or building looks really bad, it is probably structurally sound and can be restored cheaper than it can be rebuilt," Schmidt said.
Lettiere and Schmidt submitted a project abstract to the Council on Undergraduate Research and Lettiere said they were "pretty shocked and very excited" to learn they were selected to participate in the upcoming poster presentations. Both said they are very much looking forward to meeting lawmakers and showing them their research at the Rayburn House Building on Tuesday. Schmidt said they hope to raise awareness of the Cairo restoration efforts, in turn securing support and perhaps funding in the future.
"Toni and Jim have a passion for what they do. If it weren't for their passion, going down there every day for 10 weeks in the hottest part of the summer, doing all that hard work that they didn't get paid anything for, not near as much would have been accomplished. It's amazing that after all of that, they're still excited about it. It's an honor to be around people like that. We are very proud of them," said Robert Swenson, SIUC associate professor and architect.
As Lettiere and Schmidt finalize plans for graduate school with the goal of becoming licensed architects -- Lettiere will work on her master's at Portland State University in Portland, Ore., this fall, while Schmidt is unsure as yet where he will pursue his master's -- they'll continue their Cairo efforts this summer. In fact, the two will be helping architect Bill Black Jr. provide instruction for this summer's Adventures in Preservation workshop. Participants will begin restoration of another shotgun house as work continues to finish the 2009 restoration project.
Schmidt and Lettiere also created a "how to" book, "Reviving your Shotgun House" that documents their work in Cairo. There is a copy at the Cairo Public Library, available for public viewing.
The Council on Undergraduate Research is a non-profit educational organization supporting and promoting collaborative research and scholarship by undergraduate students and faculty. This is the third time in four years that students from SIUC have earned invitations to participate in the Capitol Hill event.