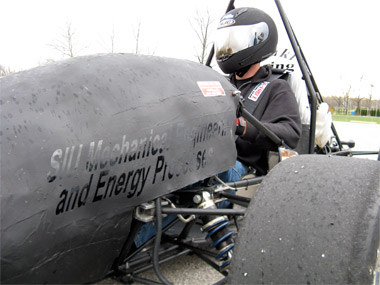 April 07, 2010
Students to put race car to the test in competition
CARBONDALE, Ill -- Aspiring engineers at Southern Illinois University Carbondale will put their skills and know-how to the test this weekend when they enter an open-wheel race car based on a Formula car design in a competition near St. Louis.
The Gateway Rush, organized by the Society of Automotive Engineers, will play host to university teams from across the nation. The weekend event will put student-designed and built cars through a series of tests, including speed, agility, breaking and other contests.
Southern Illinois University Edwardsville is hosting the event. Along with SIUC, schools including Washington University St. Louis, the University of Missouri, Iowa State University and Northern Illinois University will be on hand for the competition.
SIUC students involved in the competition built their car over 18 months, designing it around a 600 cc Kawasaki motorcycle engine donated to the program by that company. The team used many of the motorcycle's controls, lights and instrumentation to built their menacing flat-black speeder.
"They gave us a set of rules that we had to follow for the competition and we had to build the car with those in mind," said Ryan Vojtech, a senior in mechanical engineering and energy processes from Chicago, who is one of the students on the team. "It's been a lot of fun, and we've learned a lot and had a chance to develop our skills."
Along with the extremely snappy engine, the car boasts independent rear suspension and a six-speed manual transmission. Its top speed is unknown, but team members estimate the 576-pound vehicle would easily travel in excess of 100 mph.
Watching the team test drive the car near the SIU Arena, however, it is apparent that the car isn't built around pure speed, but also agility. Student drivers take turns whipping its dark shape in and out of lines of bright orange traffic cones while keeping their speed high.
The team started building the car to compete in the national competition in Detroit before last year's May 8 windstorm and later money issues caused them to scale back plans. The SIUE event is instead a regional competition.
According to the rules, the teams must conceive, design and fabricate the cars they bring to the competition, where organizers will put them to the test in terms of endurance and dynamics. Vojtech said bringing the car to life from the drawing board had required each team member's best effort.
"We had to learn and do everything, from welding the tubing to designing, fabricating and machining individual parts," he said. "It's been very hands-on and this stuff you can't learn sitting in class."
The faculty adviser for the team is Alan Weston, associate professor of mechanical engineering and energy processes. Along with Vojtech, team members include: Frederick Holmes, a senior from Dahlgren; Ryan Siriann, a sophomore from Orland Park; Brad Wilson, a junior from Herrick; Brad Bainbridge, a graduate student from Decatur; and Brian Hanson, a graduate student from Carbondale.