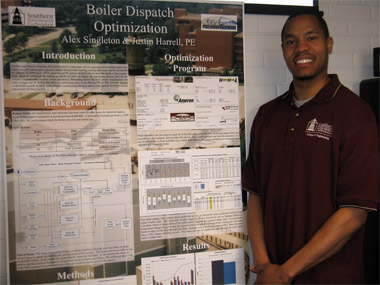 April 05, 2010
Student's research could enhance energy efficiency
CARBONDALE, Ill. -- A computer program created by a Southern Illinois University Carbondale student could lead to greater operating efficiency for the University's boiler system, saving money in the process.
Alex Singleton's formula includes temperature forecasts and historical data to give SIUC Physical Plant operators insight into using the most cost-effective boiler combination based on anticipated power load. The plant's four boilers burn coal and natural gas that produce steam, which flows through more than four miles of underground pipes to heat and cool the campus.
Singleton is a senior in mechanical engineering and energy processes. The son of Percy and Lois Singleton of O'Fallon, Singleton presented his research at the 2010 Undergraduate Research Forum held March 26 on campus. His research finished in a four-way tie for third.
Singleton's research was part of a 12-week internship with the Illinois Environmental Protection Agency's Office of Pollution Prevention. The adaptable spreadsheet program went into operation at the Physical Plant in August and September.
"Energy is a big topic today so I was interested to get out there and help with today's energy problems," said Singleton, who will graduate in August. "The internship got me more interested because I found out how many applications there are in real life for energy efficiency and pollution prevention."
Singleton "basically invented the whole program himself," said Justin M. Harrell, an electrical engineer in the Physical Plant, who was Singleton's mentor. Plant operators were interested in the concept for a long time and the internship enabled work on the project, he said.
"In 11 weeks he learned about the whole boiler system, got some of the pricing data, talked to the boiler operators about what they wanted as the end product, and put it all together," Harrell said.
Three of the four boilers are coal-fired and the fourth boiler uses natural gas. A byproduct of the steam cycle allows the system to also generate some of the University's electricity.
Numerous factors, including unpredictable weather, boiler limitations, volatile fuel prices and boiler maintenance go into operating costs, said Philip S. Gatton, director of Plant and Service Operations. The high cost of natural gas until last year's economic downturn initially drove the research. Natural gas prices have dropped between one-third and one-half the cost 18 months ago, but coal prices have risen significantly, Harrell said.
In 2008, the University spent $1.6 million for coal and $430,000 for natural gas, and another $6 million to meet the remaining electrical needs of the campus, according to Singleton's abstract. Using the program could potentially save more than $360,000 annually compared with 2008 costs, according to the abstract.
"There are so many different things that can change. This is a tool that can roll with all those changes over time and still be useful," Gatton said.
Gatton and Harrell said it is too early to determine how much the program can save the University. Gatton said he expects some cost savings, but plant operators will be able to make better decisions based upon the information about possible usage loads, fuel costs, and projected weather forecasts. The information is critical in day-to-day decision processes for the University to become more efficient, he said.
Prior to implementing the program, plant operators were going off their knowledge of how the boilers work on certain cold and hot days. This program gives them enough information so they can see a day or two in advance whether they need to start warming up another boiler or run the natural gas boiler at a lower rate, Harrell said.
"This is becoming more standard in industry because utility costs are starting to become so exorbitant that you have to operate more efficiently," Gatton said. "You have to think about these variables all the time. The days are over when you can think about cheap energy. Even our coal prices have gone up significantly. When you think about fuel you are thinking about how valuable of a commodity that is and you are trying to maximize your efficiency."
IEPA is asking Singleton to return for another 12-week internship this summer, Harrell said. Gatton believes the program would not be in place at this time without the internship and Singleton's efforts.
"We are all prioritizing based on staffing levels of what we are able to get done," Gatton said. "Often times we have these ideas that we recognize would be good for the University, but we are so busy on our other day-to-day things and trying to establish new priorities.
"It's an excellent learning opportunity of a real-world situation," he said. "At the same time, we get a benefit out of this we have been hoping to get, but haven't been able to find the resources to do be able to do it."
Singleton graduated from Mascoutah High School. He hopes to attend graduate school at SIUC where he will study thermal sciences and then possibly become a certified energy manager.