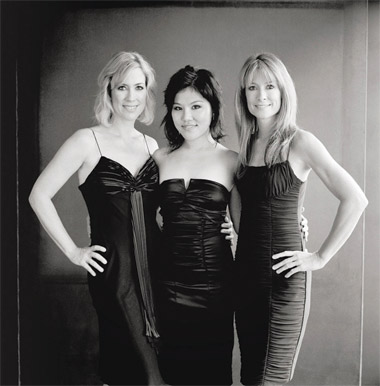 April 02, 2010
Musical trio Eroica to present two concerts
CARBONDALE, Ill. -- Eroica returns to Southern Illinois University Carbondale for a four-day stay this April.
The trio presents two concerts while they are here, as well as a master class for SIUC and community musicians.
First up is a performance with the Southern Illinois Chamber Music Society beginning at 3 p.m. on April 11 at the Unitarian Fellowship of Carbondale, located on Parrish Lane. The program includes piano trios by the classic masters Beethoven and Brahms. Rounding out with more modern compositions, the performance also features Grammy-winning contemporary composer Joan Tower.
Tickets are $20 for general admission, $5 for students. The Southern Illinois Chamber Music Society seeks to present chamber music to Southern Illinois, but also to promote the young musicians in the SIUC School of Music with scholarship money.
Eroica is also a highlight of a concert presented by the Southern Illinois Symphony Orchestra beginning at 7:30 p.m. on April 13 in Shryock Auditorium.
Eroica performs solo for Beethoven's Triple Concerto. Mozart's famous Overture to the Marriage of Figaro is also on the program, and Hector Berlioz' Harold in Italy. The latter piece also features a new faculty member to the School of Music, Aurélian Pétillot, on viola. Edward Benyas, also of the School of Music and the SISO music director, conducts the symphony.
Tickets are $35 for general admission, and $10 for students. Tickets are available in advance from the SIU Arena and the SIUC Student Center, or at the Shryock Box Office. Tickets are also available beginning one hour before the performance.
The master class is April 12 and features a performance by SIUC music majors. For more information about the master class, call the School of Music at 618/456-8742.
Eroica is an award-winning musical trio featuring Erika Nickrenz, piano; Susie Park, violin; and Sara Sant'Ambrogio, cello. Critics refer to Eroica as "one of the first all-female chamber music ensembles to reach the top echelon." They gained early recognition when, in 1991, they won the Naumburg Chamber Music Award. They have since won many other awards, and taken their music on international tours.
The SIUC Student Fine Arts Activity Fee helped fund Eroica's appearance.