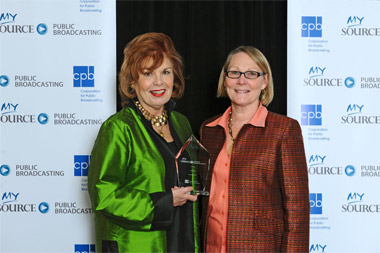 March 26, 2010
WSIU wins national 'My Source' award
CARBONDALE, Ill. -- For a second consecutive year, WSIU Public Broadcasting, the broadcasting arm of Southern Illinois University Carbondale, is earning national recognition for its efforts.
WSIU received a "My Source Education Innovation Award" from The Corporation for Public Broadcasting during ceremonies in Washington, D.C.
"My Source" is a national campaign developed by The Corporation for Public Broadcasting to engage people in a dialogue about the power of public broadcasting to inform, enlighten, and enrich public life. The awards recognize the educational services provided by public broadcasting stations and to highlight the local connection between stations and the communities they serve. The My Source Education Innovation Awards recognize and showcase how public education public broadcasting stations use pioneering approaches and emerging digital technologies to serve the educational needs of their communities on the air, online, and in the classroom.
WSIU's two winning testimonials featured early childhood teachers Keely Gelso and Dimitra Palaskonis of the Alice Wright Early Childhood Center in Carbondale. Gelso discussed the values of WSIU's PBS TeacherLine courses for professional development while Palaskonis shared the impact of WSIU and PBS programming on her life as a child of Greek immigrants.
"The stories of these local educators share a powerful message of their trust in WSIU's educational resources," said Vickie Devenport, WSIU outreach coordinator.
Devenport received the award from Pat Harrison, president and CEO of The Corporation for Public Broadcasting at the Council of Chief State School Officers/Public Media Executive Summit. WSIU also received a $3,000 grant to continue its innovative work using public media as an integral part of educational outreach efforts across the region.
"Stations across the country are using technology in creative and innovative ways to deliver educational tools and resources that are making a real difference to teachers, parents and children," Harrison said. "Public media is the definitive education partner for a new generation of learners and The Corporation for Public Broadcasting congratulates WSIU for its outstanding contribution to the community."
To view WSIU's award-winning My Education Innovation testimonials, visit www.wsiu.org/teacherline.
Last year, WSIU earned a "My Source Community Impact Award for Education" for testimonials showcasing two of its education projects, "Biz Kid$ Bash," and "Raising Readers in Southern Illinois."