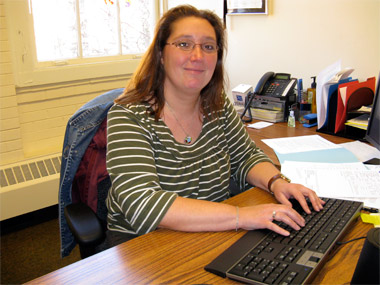 March 24, 2010
Ten questions with ... Anja Meksem
Job on campus/department you work in: Program Coordinator, IGERT – Watershed Science and Policy.
How long at SIUC: About four years, but just started this position in October.
Hometown: Cologne, Germany, but we do live in Carbondale now.
When you were a youngster, what did you want to be when you grew up? First, I wanted to be a pediatrician and work in Africa. Then it switched to farmer (because we used to spend our summer vacation on a farm in Germany).
If you could choose another profession, what would it be and why? Photojournalist; I love to take pictures and then I could also travel the world.
What was the first "album" you ever bought, and was it an LP, 8-track or CD? I am afraid 'Boney M.' (hopefully no one knows them here…), of course an LP.
What is one random fact about you? I used to sing in a choir for more than 20 years back home and still miss it.
Cats or dogs? Dogs (and our 'Green Anole')
What is your favorite food and why? Real Italian food (not what you find at the restaurants here), it is sooo good.
What is your pet peeve? People who eat noisily and don't care.
Favorite cartoon character? Why? Not really cartoon: Cookie Monster (yes, I grew up with Sesame Street…); he is so crazy but sweet.