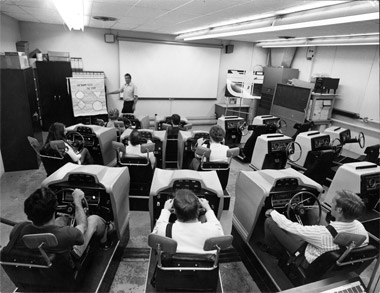 March 24, 2010
Safety Center celebrates 50th anniversary
CARBONDALE, Ill. -- A Southern Illinois University Carbondale center where hundreds of driving instructors and motorcyclists learned their stuff turned 50 this month.
Known simply through most of those years as the Safety Center, it began in a small, one-story house on Grand Avenue, then moved to a corner of the University's physical plant before settling in at its current location, a long, low building with an adjacent 200-foot by 1,000-foot paved driving range just south of campus lake.
"The center got approval in March 1960 from the SIU Board of Trustees to set up a program aimed at preventing injuries and promoting safety, primarily in highway and traffic areas," said Dale O. Ritzel, who, as a college math major in 1964, took some safety classes in the little house, changed career focus as a result and became the center's second director.
"Over the years, we've offered training in driver education for high school teachers and courses in motorcycle safety, advanced driving techniques and child passenger safety. We've also conducted outreach programs in workplace safety, both on and off the job, and in home and community safety.
"While a lot of what we have done is related to teaching and service, we've been involved in a lot of research, too. For example, in one of our projects, funded by the Secretary of State's office, we looked at alcohol use among high school students and then developed curricula in the area of alcohol and driving."
Today, the Safety Center is well known for its motorcycle program, which provides free instruction at various state locations in safe riding techniques for both newbies and old pros.
"We started it in 1968; we were the first in the country to offer a motorcycle rider course," Ritzel said.
"We had to work out of Dongola High School because we didn't have a facility here. We built the driving range in 1971, and by 1972 it became a permanent fixture."
Perhaps closest to Ritzel's heart, however, are the driver education programs, designed to teach high school teachers how to impart driving skills to raw beginners.
"People who teach these classes have a big responsibility," said Ritzel, who himself, as a health education graduate assistant, taught driver education at the University School once run by what was then SIUC's College of Education.
"Injury from motor vehicle collisions is the leading cause of death for people 34 and younger. Traffic injuries account for the majority of cases of paraplegia and quadriplegia and are the single leading cause of severe brain injury, severe facial lacerations and fractures."
Illinois began requiring schools to provide driver education in 1957. That provided the fledgling Safety Center an obvious niche.
"In our first 20 years or so, there was a great emphasis on training teachers, both in Illinois and other places," Ritzel said.
In 1999, Ritzel expanded the center's reach, developing electronic instruction materials and taking the driver education and safety courses online.
"That way, no matter where people are, they can take classes," he said.
"At the time, I was the only one in the country doing it. And more than 10 years later, our enrollments in these courses continue to be good," added Ritzel, who, though "retired" since 2006, maintains his professorial persona online.
In looking back on his long association with the center, Ritzel said he felt real pride in the number of undergraduate and graduate students who trained there and went on to forge careers in the field.
"That's the thing we have done the best," he said, "helping people to become successful later on."