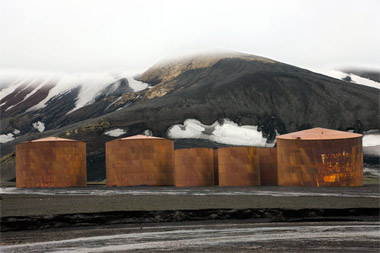 March 05, 2010
Kolb, Needham prepare exhibit on Antarctica
CARBONDALE, Ill. -- A visual and audio exhibition at Southern Illinois University Carbondale later this month will provide a powerful insight into one of the world's most remote and complicated continents.
Gary Kolb, dean of the College of Mass Communication and Media Arts, and Jay Needham, an associate professor in radio-television, present their exhibition, "Antarctic Dreams," March 30 through May 9 at SIUC's University Museum. The collaborative exhibition highlights Kolb and Needham's December 2008 journey to Antarctica through imagery and sound.
A reception is set for 4 to 7 p.m., April 2, in the museum.
---
Media Advisory
Reporters, photographers and camera crews are welcome to cover the exhibit. For more information on the "Antarctic Dreams" exhibition, contact Gary Kolb by email at gkolb@siu.edu, or Jay Needham at jayneedham@neondsl.com.
---
The exhibit features about 40 of Kolb's images and selections from 25 hours of Needham's sound recordings. The imagery features wildlife, which includes penguins and seals; landscapes, with mountain ranges and glaciers; and an audio-visual installation focusing on the economic and industrial exploitation, primarily by the whaling industry, at Deception Island. The installation, portraying the remains of "collision and industrialization" in a completely unlikely area of the world, is the exhibit's centerpiece, Kolb said.
An active volcano off the Antarctic Peninsula collapsed into the sea about 10,000 years ago, leaving a flooded caldera -- or volcanic crater -- that provides a beautiful natural harbor, Kolb said. The whaling industry used the area for about four decades until the early 1940s as a place for factory ships to process whales. Immense pressure cookers cooked the whales and separated their oils.
The island's beaches are primarily black volcanic ash. In Whaler's Bay the beach is scattered with large whalebones.
"It's a very powerful place. We spent many afternoons talking about some of our perceptions at Deception Island," Needham said. "You see where the biology of both man and the whale came together almost like a battlefield. There is an interesting irony; kind of a beauty and story to tell that has a lot of artistically rich elements to discuss, look and listen to."
Kolb said the decision to focus the show's central installation around Deception Island came while listening to a sound piece Needham was working with in his studio.
This is the first exhibition from the Antarctic journey. In addition to the print and sound version of the show, Kolb and Needham are giving thought to a digitally based projection and sound version. Images in the show will range from 2-feet by 8-feet, to 20x30 and 20x20 inches.
A Chilean shipping company asked Kolb, an accomplished landscape photographer, to be an artist-in-residence on the boat the Antarctic Dream. The opportunity gave Kolb and Needham the opportunity to collaborate on their love of wildlife and wilderness.
The pair left Carbondale on Dec. 5, 2008, and returned 16 days later. They spent six or seven days in the Antarctic going ashore about seven times for two to four hours per visit.
Antarctica can be a very windy place, but also a "very, very quiet place," said Needham, who also made underwater recordings. The recordings also feature sounds of penguins and birds. Needham has created a series of sound sculptures that he will install in the gallery. Each piece will be playing back a different mix of sounds gathered on the journey. For Kolb and Needham this exhibit is an opportunity to make lasting impressions for visitors by creating strong image and sound relationships.
The pair traveled 400 miles from the tip of Argentina to reach the continent. Stepping onto the Antarctic coast off the raft left a surreal feeling, Kolb said. While Kolb and Needham have backpacked together in wilderness areas 20 to 30 miles "from the nearest road," this trek was quite different for both men.
"When you voyage out from Ushuaia (the Argentine port they left) and you sail 400 miles south to find this new continent of wilderness and you step on it, it is a remarkable, very spiritual experience in many ways," Kolb said. "Just the awe of looking at the vastness of this space; even just what we could see and then thinking this went on for thousands of miles, is overwhelming."
Kolb and Needham continue to absorb and process their experience nearly 15 months after the journey -- a point brought home as they prepared for the exhibition.
Needham said the journey reinforces his belief of a need to "look in all directions," not just to the east and west to Europe and Asia when considering the world's issues. The Antarctic Treaty, which is comprised of more than 40 nations, including the United States, Russia, and the United Kingdom, governs the continent. With issues of climate change and shifting economics, Needham strongly feels the relationship with Antarctica is an indicator of the future of nationalism and of a way to collaborate or share governance.
"What I took away more than anything else was a real sense of respect for that last really truly unspoiled wilderness in the world, and a hope that that won't change," Kolb said, noting global warming and tourism concerns.
Going into the wilderness serves as a reminder to Kolb that he is not in charge.
"It's really important for me to understand that there are things bigger than me in the world," he said. "It instills a respect in you for those spaces. For me, it's my connection to what is larger in the universe than I am. This is a very spiritual experience for me."