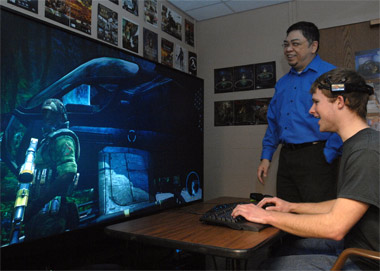 February 25, 2010
Grant funds study of how video game-players learn
CARBONDALE, Ill. -- A "professor of games" is developing software that will allow teachers to correct students' mistakes as they make them.
"Research tells us that repeated mistakes will become entrenched, and correction at a later point can become costly," said C. Sebastian Loh, who teaches in the Department of Curriculum and Instruction at Southern Illinois University Carbondale.
"I have taken that idea into games used for learning and training. This software can track players within the game world and show where they are and what they are doing in that environment. As a result, an instructor can be notified about a mistake early enough to help trainees correct any mistakes before they become habits."
Loh's research focuses on his twin interests in performance assessment and the fantastical computer-generated worlds where millions of alter-egos, known as avatars, live -- and oft times die.
While many of these cyperspaces came into being to entertain-- think "World of Warcraft" or "Second Life" -- some virtual environments serve as training schools where players learn and practice new skills. The military, for example, has created a game called "America's Army," which allows players to become riflemen, grenadiers, marksmen and such through training based on actual Army exercises.
"It was created as a recruitment tool, and because players already know the lingo and the process, it reduces training time," Loh said.
As with any kind of training, the key question in computer-aided instruction is: What did the student actually learn? Most assessments come when training ends. Loh himself has developed software that pulls data from gaming sessions once they're done to pinpoint performance progress, strengths and weaknesses. But because these tools come into play at the end of the training, trainees may have spent as much as 60 hours making mistakes and worse, repeating them.
"That time is wasted," Loh said.
"My idea is to find out what they're learning as they go along, in real time or as near as I can make it. If I know they're coming over the wall and then going through the wrong door, I can help them, guide them right then without having to wait for the game to be over."
This sounded like a good idea to the U.S. Army Research Office; its Defense University Research Instrumentation Program has given Loh a $70,000 grant to pay for virtual environment equipment that will allow him to develop and test these real-time assessment tools.
Loh calls his new assessment space, a small, windowless room in Pulliam Hall decked out with dozens of posters depicting a range of computer games, the V-Lab. It contains a 72-inch liquid plasma, high-definition, rear-projector TV that can operate in 3-D and an Alienware "mothership," a gaming computer with a glowing blue "alien" on the front and a ridge of plastic plates along the top that fan open when it powers up.
Before games start, players will don a headset with sensors that can scan and store brainwave readings, revealing the mood states, such as excitement, calm and fear, they experience as the games progress.
"That will tell me how engaged the player is," Loh said. "Emotions are often tied to action. One of the things I want to find out is whether they do blend together in the game."
Loh already has created a game environment scaled to the V-Lab's large screen and is now designing scenarios for the avatars who will play there.
"The game is the platform that lets me find out how people learn when they use it," Loh said.
"The Army just wants to know how general human learning happens, so the game doesn't have to have a military context."
He also has developed the software that will let instructors follow players as they move through the game.
Loh expects to have his lab up and running by the end of June. On down the line, he hopes to share it with other researchers interested in game-based learning and assessment. The University's medical school already has expressed some interest, he said.
"I want to make the best use of this as I can," Loh said. "I'm looking for good students, other researchers, maybe even outside partners to conduct research here."