February 10, 2010
Top engineering society honors faculty member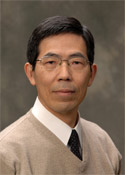 CARBONDALE, Ill -- A top civil engineering society is honoring a Southern Illinois University Carbondale engineering faculty member.
The American Society of Civil Engineers recently named Jen-Kan Hsiao a fellow of that organization. Hsiao is an associate professor in the Department of Civil and Environmental Engineering.
Hsiao said he was very happy to receive the award.
"Being named as a fellow of the American Society of Civil Engineers is an important honor for me," he said.
Fellow designation is the second-highest membership grade ASCE bestows on its members. It recognizes the members' professional distinction and achievements, including their having at least 10 years of "exceptional responsible charge" in engineering and maintaining a professional engineer and land surveyor license. ASCE-affiliated people must nominate them for the honor, with at least three testimonial references overall, two of which must come from ASCE fellows.
In a letter to Hsiao, ASCE Executive Director Patrick Natale wrote that fellows make up less than 5 percent of the group's overall membership. 
"The selection guidelines for ASCE fellows are strict because we only want civil engineering leaders who exhibit professional strengths and have achieved significant accomplishments during their career, professional distinctions within the industry, and the respect of other civil engineering authorities," Natale wrote.
Sanjeev Kumar, chair of the department, congratulated Hsiao on his achievement.
"The award signifies Dr. Hsiao's outstanding contributions to the profession of civil engineering." Kumar said. "This award not only brings recognition to Dr. Hsiao but to the Department of Civil and Environmental Engineering. It is a testimony of the quality of faculty members we have in the CEE Department." 
Hsiao, who joined SIUC's faculty in 2001, is a licensed professional civil engineer in California and licensed professional structural engineer in Utah. He earned his doctorate in 2000 at the University of Utah and his master's and bachelor degrees at Brigham Young University. He worked 17 years as a structural engineer, designing more than 20 bridges and 100 buildings. Among his more notable structures were the 34-story Renaissance Parc 55 Hotel in San Francisco, the nine-story Taipei Railway Main Station in Taipei, Taiwan, and the 1.5-mile-long Jamestown Bridge in Rhode Island.
Hsiao's research interests and specialties include seismic structure design and computer modeling and simulation for structural systems. During his time at SIUC, he has won multiple awards including the department's Outstanding Teacher Award (2004), the engineering college's Dean Thomas B. Jefferson Outstanding Teacher Award (2005), the college's Dean Juh Wah Chen Outstanding Faculty Research Paper Award (2006) and the ASCE Leadership and Management in Engineering Best Feature Article Award (2007). He also won the 2008 engineering college Excellence Through Commitment-Outstanding Teaching Award and the 2009 Excellence Through Commitment Undergraduate Teaching Enhancement Award.
Hsiao previously served 10 years on the ASCE's Standards Committee on Seismic Rehabilitation of Existing Buildings, helping write two books on the subject that serve as the national standard for such work.
ASCE fellows receive a plaque and commemorative pin, as well as increased visibility within the organization, among other benefits. A fellow is recognized in the field of civil and related engineering specialties as a person who has made an ongoing commitment to supporting ASCE's leadership in the profession. 

Hsiao joins three other department faculty members to receive fellow designation in the ASCE. Those faculty members are John W. Nicklow, associate dean and professor; Lizette Chevalier, professor; and Kumar.
Ramanarayanan Viswanathan, interim dean of the College of Engineering, said Hsiao is well deserving of the award.
"This is a prestigious recognition which has been given only to a select set of individuals for their scholarly and professional contributions," he said.