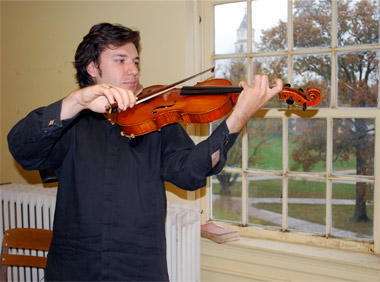 February 10, 2010
Ten questions with ... Aurélien Pétillot
Job on campus/department you work in: Instructor of viola, music history and music understanding in the School of Music, College of Liberal Arts
How long at SIUC: Started fall semester 2009.
Hometown: Paris, France and Austin, Texas. But home is wherever my family is.
When you were a youngster, what did you want to be when you grew up? McGyver, Sherlock Holmes and Indiana Jones. I guess that didn't quite work out, did it?
People don't know that you… Routinely wake up to Stevie Wonder's "Boogie on Reggae Woman."
If you could choose another profession, what would it be and why? I'd love to be one of those guys on Mythbuster. Being paid to smash things together and blow them up! How fun is that!
What is one random fact about you? My nickname as a child was Tchernobyl, because I used to (accidentally) cause mayhem wherever I went.
Cats or dogs? Cats.
What is your favorite food? Indian.
Who has inspired you, and how? People who are passionate and enthusiastic about their crafts.
What is your pet peeve? Whining.
What would you like your gravestone to say about you? "That was fun. Let's do it again!"
Favorite cartoon character? Why? Pepe le Pew. Family resemblance.