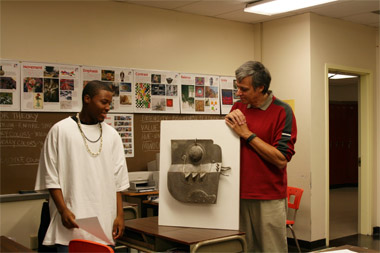 February 10, 2010
Museum's education director wins statewide honor
CARBONDALE, Ill. -- Robert D. DeHoet has been bringing art and young people together for nearly three decades as education director of the University Museum at Southern Illinois University Carbondale.
DeHoet's efforts haven't gone unnoticed; he is the 2010 recipient of the Illinois Alliance for Arts Education's Public and Community Service Award. The award recognizes him for dedicated service and promotion of the arts in Illinois schools, according to the IAAE.
"This is wonderful recognition for a University Museum staff member who quietly goes about his business of serving the museum, the University and the Southern Illinois region," said Dona Bachman, director of the University Museum and Museum Studies.
The alliance will recognize DeHoet during its annual awards ceremony March 18 in Springfield. He will also get the opportunity to talk of his activities with students.
DeHoet said winning the statewide award is an honor and he's quite enthusiastic when it comes to discussing his work merging students and art. DeHoet coordinates the annual SIUC Arts Education Festival that brings about 3,000 area elementary and middle school children to campus each year along with campus and community artists and volunteers for an immersion in art.
He's also works with students at local school districts in various programs. This semester, with funding from the Carbondale Community Arts, he's taking "Critical Mass" to high schools in Cairo, Pinckneyville, Zeigler-Royalton and Elverado as well as Anna junior high. He brings artwork from the museum's collection into the schools, where students study and critique it and then produce their own art.
"The students figure out what makes great art by studying the artwork," DeHoet said. "They write about what they see and make sketches to try to get into the artist's shoes and see from the studio viewpoint why the artists made the choices they did regarding elements like shape and color. Then, while keeping in mind the artist's presence and original work, they create a variation of the original, changing one element. It helps them really understand art. It's a great experience."
The students also selected their 20 favorite works from the museum's collection and then narrowed the choices to select the top three. They did so after careful study and explaining in writing their choices. Their choices, writings and their own art will be the focus of an exhibit at the University Museum March 26-April 23. Students are creating and curating the exhibit and DeHoet said it's impressive and illustrative of why he does what he does.
"It's a wonderful cooperative effort. The museum has artwork by master artists and these programs really help students learn about art and how artists make the choices they do. It's wonderful working with all of these students and all of the teachers," DeHoet said.
Paulette Aronson is the recently retired Anna junior high teacher from Cobden who nominated DeHoet for the award.
DeHoet said through the years he's worked with perhaps 40 different area junior high and high schools through the Arts Education Festival and more than 25 schools in projects similar to Critical Mass.
"It's been a really great experience," he said.
He's already looking forward though, seeking grant funding for a spring photography project and future projects.
DeHoet earned his bachelor of arts in art history and his master's in studio art, both from the University of Iowa. A teacher since 1987, he became museum educator director in 1991. DeHoet also teaches in the Museum Studies program. SIUC offers a minor in Museum Studies.