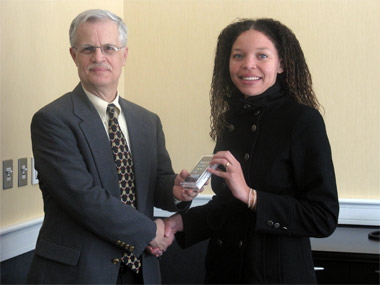 February 02, 2010
Student's video wins library's 'SPARKY Award'
CARBONDALE, Ill. -- Lauren Selmon Roberts knows the value of information sharing through her master's level class at Southern Illinois University Carbondale.
A video that Roberts directed showing what happens when information is not fully accessible captured first place in Morris Library's inaugural SPARKY Award competition. Entrants submitted a short video, no more than two minutes long, focusing on the value and benefits of information sharing.
With the help of classmates and professors, the black-and-white silent video, "Know Info. Know Access." reveals "how key access to information is in the learning process," said Roberts, who expects to graduate in May with master of fine arts degree from the College of Mass Communication and Media Arts.
Roberts' husband, Will, also a graduate student in the program, is among those who appear in the video.
David H. Carlson, dean of Library Affairs, said there are a number of issues that students and society face when it comes to information sharing restrictions.
"From the library's perspective, we feel that the more open the market is, the more open the commercial market is, the more open the world of ideas is to people, students, and scholars," he said.
The contest is a way to make students more aware about the information sharing issue and thinking about it in a slightly different way outside of the classroom, Carlson said.
Roberts' entry will now compete for a national prize from The Scholarly Publishing and Academic Resources Coalition, or SPARC, sponsors of the national competition. Roberts' winning video is available at http://virb.com/nela/videos/6265410.
Roberts, who received an iPod touch for winning the contest, created her first video when she was 15 years old, an entry for a WNBA commercial.
Roberts said she thought of a world that is so full of information, with different sounds, words, symbols colors, containing "unimaginable thought and creativity, but to share it all, we must access it first."
"Without access, we can easily miss out on a wealth of information," she said. "The video shows an environment that is full of diverse and creative information; viewers know it is there but don't have full access to it. Viewers can't hear the people or the sounds. They can't see the true color or understand the signs."
Roberts, the daughter of Kathryn and Dewey Selmon of Norman, Okla., earned her bachelor's degree in broadcast journalism from California State University, Fresno in May 2005. Her thesis project, "Rainbow Town," is a long-format documentary shot in Liberia, West Africa, that focuses on a woman who saved 200 children during that nation's civil war. The woman still lives with 86 children on donated land. Roberts said she expects to show her thesis project this spring in the Student Center Auditorium.
Two other students earned honorable mention recognition and each received $100 campus bookstore gift certificates. Shardaria Johnson, of Chicago, a junior in cinema and photography with cinema specialization, earned the award for the video, "Share The Knowledge." The video may be viewed at http://www.youtube.com/watch?v=6fxyvqqotek. Riley Tucker, of Elmhurst, a sophomore in cinema and photography with a specialty in cinema, earned an award for his video, "Sharing the Time of Day." The video may be viewed at http://www.archive.org/details/SharingTheTimeOfDay_393.