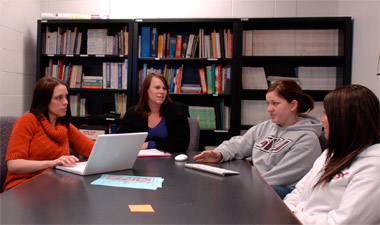 Learning by doing -- Project 12-Ways staff members (from left) Dana Harvey and Ashley Geighes listen as graduate students Nicole L. Davlin of Macomb and Mandy J. Fleming of Chester report their observations of a family enrolled in the project. (Photo by Chris Fark) Download Photo Here
January 22, 2010
Staff, students find Project 12-Ways rewarding
CARBONDALE, Ill. -- Ashley Geighes started out in physical therapy. Dana Harvey thought she'd be a nurse. But along the way, both women fell under the spell of Project 12-Ways, a Southern Illinois University Carbondale program that aims to change the lives of abused and neglected children, and their lives changed, too.
Run under the auspices of the Behavior Analysis and Therapy program at SIUC's Rehabilitation Institute, 12-Ways serves as a training ground for graduate students who hone their skills in behavior analysis by teaching families in 11 Southern Illinois counties to interact in more positive ways.
"It's labor intensive, because if you're going to make a change, you have to be there and embed the change in the family's daily life during times when the behavior occurs," said Brandon Greene, who currently directs the project and has been involved with it since its start-up in 1979.
"Early on, we recognized there was no way to put together the staff to serve the program without drawing on the students, so it's been since its inception the primary source of graduate assistantships. We have had 400 to 500 students and related personnel go through the process."
Most people who have heard anything about behavior analysis connect it with autism.
"That's the 'soup du jour' of the field, and many students who come to our program have been attracted to that area of application," said Greene.
"The bread-and-butter of behavior analysis therapy, however, has typically been developmental disabilities. Although we often encounter disabilities in our families, 12-Ways clearly demonstrates that behavior analysis is effective in other situations. In fact, I personally don't think there's any area where it wouldn't be helpful."
Both Harvey and Geighes refocused on disabilities fairly early in their academic careers, but neither initially felt called to work with cases involving abuse and neglect.
"I fell into it," Geighes said of her assistantship with 12-Ways. "I didn't know what it was."
Her first clients, assigned to her because of her associate degree in physical therapy, had a 7-year-old who developmentally was still a baby.
"The family just wasn't educated about what to do with a very disabled child," she recalled. "Anybody would have had difficulty with him. They just needed help, and they were very appreciative."
Harvey, who discovered behavior analysis at the end of her sophomore year and earned her bachelor's in the field, initially saw the project as a training opportunity, not a calling.
"But I loved it from the start," she said. "First you see the changes in the parents, then you see the response of the children. Being there from the beginning and seeing the changes as they happen is so rewarding."
Harvey finished her degree in 2004 and moved to Knoxville, Tenn., to work for a company that assisted agencies working with the developmentally disabled. After a year, she and another project graduate moved to Ontario, Canada, to assist a large agency that wanted to recreate 12-Ways there.
"It was very successful, but the maintenance of the program was where everything stopped, mainly because there weren't many programs in behavior analysis therapy in Canada (which meant the agency couldn't hire the number of trained staff such a program requires)," Harvey said.
Geighes, meanwhile, graduated in 2006 and went to work for a Michigan company helping brain-injured clients in their homes, then moved to Indianapolis to work at a center for children with autism.
"The project was great experience," Geighes said.
"I had the skills to do in-home consulting and work with a variety of families, figure out what the issues were, come up with a plan."
These days, both women work once more for 12-Ways, this time as professional staff. Geighes accompanies students on their family visits, evaluates their technique and effectiveness, helps them solve problems and makes sure they're collecting data correctly. Harvey meets weekly with staff members, keeps track of assessment data, trains the students in writing progress reports and reviews those reports to make sure they're done right. She also meets with child welfare agencies about new cases, prioritizes those and assigns them to students, checking in regularly with Geighes about what's happening out in the field.
It's different work, but rewarding, too.
"A lot of my peers (in management position) are struggling with things like staff resistance, and here it's the complete opposite," Harvey said.
"They're asking for more work. The staff is here to learn. That's wonderful to me."