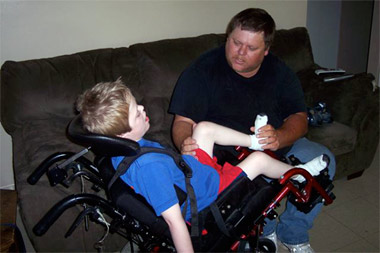 A new skill -- Supervised by Project 12-Ways staff (off camera), a father practices a physical therapy technique with his severely disabled son. The father learned enough to make his son's last years more comfortable. (Photo provided) Download Photo Here
January 22, 2010
SIUC's Project 12-Ways offers hope to families
CARBONDALE, Ill. -- Scolded harshly by his mom for a scuffle with his sister, the 7-year-old boy in the diaper wouldn't say "Sorry" -- wouldn't say anything, in fact. Prodded by their mom, the little girl hugged the boy, who stood woodenly, arms hanging stiffly at his sides. Finally, in a burst of swear words, the mother sent him out of the kitchen so she could fix dinner. As the camera panned in, a silent tear slid down his face. He never said a word.
Brandon Greene sees progress in this heart-rending film clip, produced to illustrate the work of a groundbreaking Southern Illinois University Carbondale venture called Project 12-Ways. Now in its fourth decade, the project focuses on helping families where abuse or neglect are taking place.
"She's making dinner," Greene pointed out. "When we first started working with them, nobody made dinner. In fact, the family was referred to us because the children were drinking from the toilet."
Project 12-Ways, a training ground for students in the SIUC Rehabilitation Institute's Behavior Analysis and Therapy Program, receives federal funds to work with families referred by state and family service agencies from 11 counties in Southern Illinois.
"When we get referrals, there's pretty compelling evidence that something has happened, and in some cases it's been happening for many years -- the family has been in the system for a while," said Greene, who has been with Project 12-Ways since its beginning and serves as director.
"Our goal has always been to keep the family together. They're in the system because the family has crossed some amorphous line that separates acceptable from unacceptable parenting. If we can get them to become minimally adequate at parenting -- that means providing eats, sheets and a modicum of socialization -- their parental rights remain intact. That's a modest goal, but it's attainable."
To help parents move toward that goal, graduate students in SIUC's Behavior Analysis and Therapy Program, who form the core of the project's clinical staff, teach them a range of skills -- from cleaning and cooking to money management and problem solving to dealing with children in public and relating to them in positive ways. They start with the basics.
"There has to be physical adequacy in the home," Greene said.
"It doesn't have to pass a white-glove test, it just needs to be uncluttered enough to get things done. You can't send a child to bed if you can't get to the bed."
They also emphasize setting up routines -- steps that take place to accomplish child-care tasks such as meals, bathing and baths.
"The daily lives of our families are not anchored by the basic and essential activities that make up daily life for most of us," Greene said.
"Often the parents are not working, so there's no need to sleep or awaken or bathe or eat at any particular time. TV can be on throughout the day and night. It all exacts a toll on the children's development. Therefore, an important order of business for us is to help the family establish predictable routines of care for their children.
"Once you have the routines in place, you can deal with how children and adults interact with each other, get to the things the parents are distressed about, which, in the parents' view, frequently involve the 'bad' behavior of their children -- parents often complain that the kids don't mind. If we can help establish routines and show the parent how to enjoy the children in the process, then getting the kids to mind isn't that hard."
While abuse and neglect cases have common elements, each family is unique, so project staff tailors training to meet specific needs. To do that, they watch to see what happens normally. But watching for 12-Ways involves more than just looking around.
Before they begin working with families, students have learned how to recognize and record behavior in more than a dozen pre-defined categories. They gather this information in a series of pre-training home visits (generally made at times where conflict is more likely to occur, such as meal- or bedtime) to establish a "baseline" -- the everyday ways in which family members usually interact. During some of these visits, they may record exactly which categories of behavior occur every 15 seconds. They turn these records -- 240 of them over the course of an hour -- into bar graphs that clearly show where parents need training.
"Not only does this show exactly what occurred during the session, but these observations don't reflect the arbitrary opinion or interpretation of a particular worker about what occurred -- they are standardized from one staff member to the next," Greene said.
"In addition, as training proceeds, the analysis provides a clear indication of whether and how the family's behavior is changing or whether the program is having its intended effect."
Parent training consists of a series of steps, called protocols, which students themselves must master before they begin working with parents.
"There's a clear specification of what needs to be done, when to do it and how," Greene said.
"For example, there are steps you can follow in putting kids to bed at night to make it happen peaceably. Our students go through a tremendous amount of realistically simulated practice. They have to demonstrate to my satisfaction that they're competent to work hands-on with families."
Freshly trained students don't face their first "real" parents alone, however.
"The new student is paired with the more seasoned, who is supervised by the even more seasoned, who is supervised by me," Greene said. "No 23-year-old is left alone to be in charge."
Parent training in some programs takes place in classrooms or clinics. That's not the 12-Ways model.
"It's difficult to change behavior outside the environment where you want the behavior to occur," Greene said.
"If there's a serious problem in the home, you're probably not going to fix it in an office, so
we don't work bankers' hours. We work when the need is there -- early in the morning and after school and into the night. It's labor intensive."
Working with some 100 families each year, Greene estimates the project has assisted more than 6,000 children since its start-up in 1979 and trained between 400 and 500 professionals.
"We're proud of what we can accomplish," Greene said. "At follow-up we see significant reductions, for example, in the recurrence of child maltreatment among families we serve.
"However, we also have come to realize that child abuse and neglect are actually part of a larger social problem that we haven't satisfactorily addressed or even accurately labeled. When you see, time and again, an employment system that doesn't hire many of our parents and an educational system that too often fails our children, there's more than just 'poverty' at work there. Until we make progress on those systemic problems, abuse and neglect will continue."