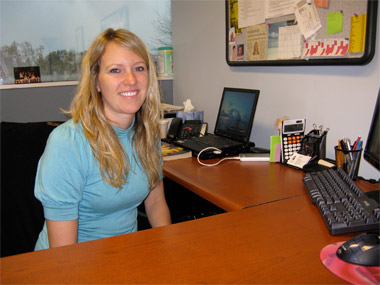 Photos by Christi Mathis
January 13, 2010
Ten questions with ... Jenni Janssen
Job on campus/department you work in: Center for Innovation, assistant director.
How long at SIUC: I attended SIUC as an undergraduate student in marketing 2002-2006. Upon graduation I enrolled in the MBA program at SIUC and was a graduate student from 2006 to 2007. During my time as a graduate student I worked with the Entrepreneurship Center. I then started working full time with the Center for Innovation in July 2008.
Hometown: Mattoon.
When you were a youngster, what did you want to be when you grew up? Growing up I wanted to be a third grade teacher or high school English teacher. It wasn't until my freshman year at SIUC that I decided I wanted to get my degree in marketing.
People don't know that I: was a sprint freestyler on the SIUC swimming and diving team during my undergraduate studies.
If you could choose another profession, what would it be and why? If I could choose another profession I would be an international tour guide. This would be a great profession for me because I love to meet new people and travel to new and interesting places.
What is something you still want to accomplish in life? Someday I would like to complete a triathlon.
What is one random fact about you? I am the social director for the new networking group 13Pro.
Cats or dogs? Neither, I am too busy to take care of a pet.
What is your favorite food and why? I love all types of food but my favorite is real Italian pasta.
What is your pet peeve? My biggest pet peeve is poor table manners.
What would you like your gravestone to say about you? Lived life to the fullest and always appreciated the little things in life.