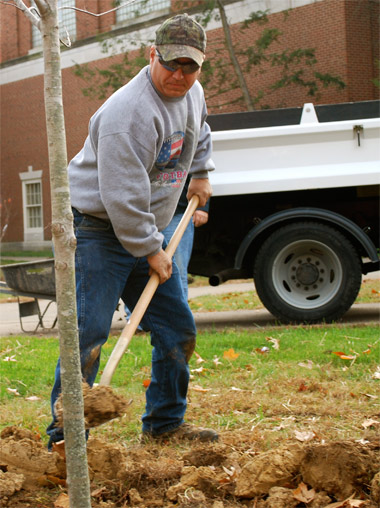 (Photos by Andrea Hahn)
January 06, 2010
Ten questions with ... Ira Tripp
Job on campus/department you work in: Maintenance Laborer/Grounds Department
How long at SIUC: Five years
Hometown: Born in Muncie, Ind., moved to Southern Illinois five years later.
When you were a youngster, what did you want to be when you grew up? President
If you could choose another profession, what would it be and why? A politician. I would like to make a positive difference.
What was the first "album" you ever bought, and was it an LP, 8-track or CD? Beach Boys, cassette.
If you could pick an actor/actress to play you in a movie, who would you pick and why? Michael J. Fox. He is close to my height, and he is funny.
What is one random fact about you? I'm a big Saluki fan.
What is your favorite food and why? Porterhouse steak -- very good.
Who has inspired you, and how? Dad -- he inspired me to do my best.
What is your pet peeve? People who throw trash on the ground.
What would you like your gravestone to say about you? Good husband and father.
Favorite cartoon character? Why? Superman, because he can do anything.