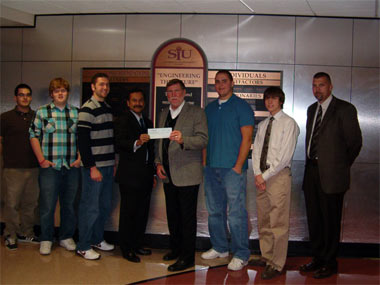 December 18, 2009
Students earn Bates Foundation scholarships
CARBONDALE, Ill. -- Several Southern Illinois University Carbondale engineering students were honored with scholarships from a longtime supporter of the University.
Nine College of Engineering students were awarded scholarships on Dec. 10 after Michael Murray, a representative of the George A. Bates Memorial Foundation, presented the college with a check for $10,000.
The recipients are:
• Austin Carter, a mechanical engineering major from Forsyth
• Matthew McGuire, a mechanical engineering major from Raleigh
• Kyle Einecker, a computer engineering major from Cary
• Taylor Chance, a mechanical engineering major from West Frankfort
• Ashcon Gozloo, a civil engineering major from Peoria
• Austin Montgomery, a mechanical engineering major from Marion
• James A. Smith, an electrical engineering major from Mount Zion
• Jeremy Curran, an engineering major from Herrin
• Ryan C. Wood, an engineering major from Des Moines, Iowa
All the scholarship recipients are freshmen.
The students were honored with a luncheon at the Old Main Room in the Student Center, followed by a check presentation at the College of Engineering.
"The George A. Bates Memorial Foundation has generously supported SIU for many years. These scholarships are critical to the University, especially at this time when we are trying to grow our enrollment," says Rickey N. McCurry, vice chancellor for institutional advancement and chief executive officer of the SIU Foundation. "We are deeply grateful to the Bates Foundation for their long history of partnering with SIU. I would like to express my sincerest thanks to Michael Murray for being a tremendous advocate for the College of Engineering and the University through the Bates Foundation."
Bates was a successful stock market investor and avid big game hunter. He was born in 1903 in the Chicago area, and resided in Cary until his death. The Bates Foundation was formed when George Bates passed away in 1989. The foundation provides funding to numerous charitable organizations, as determined by its board of trustees. Along with Southern Illinois University Carbondale, the foundation supports the cancer awareness organization, The Hope Light Project, also located in southern Illinois.
"Mr. Bates believed in supporting education. He would be very proud to see these students accepting this award," Murray says. "It has been an honor to be a trustee for the George A. Bates Memorial Foundation, and it was a privilege to deliver this year's check."
Murray was instrumental in securing funding from the Bates Foundation. As a former caretaker of Bates' property, Murray was aware of Bates' philanthropic tendencies. He submitted a proposal for support in 1991 while working as a central development officer for the SIU Foundation. Now, as a Bates Foundation trustee, he is able to continue to provide funding to scholarships at the College of Engineering. To date, the Foundation has provided $165,000 to SIU for scholarship funding.
"The Bates Memorial Foundation has been a generous supporter of the college for some time. Their support has been extremely beneficial to our program," says Ramanarayanan Viswanathan, interim dean of the College of Engineering. "The students appreciate the financial assistance this Foundation has provided them. We hope to continue to see this type of support in the future."