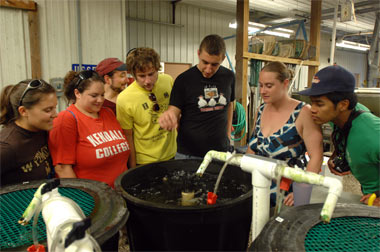 Dinner, meet dinner -- Kendall College culinary students (from left) Sarah Roberts, Tiffany Nelson, Ben Levin, Corey Head, Jake Norini, Robyn Yanney and David Santos take turns feeding fish in SIUC's wet lab. (Photos by Russell Bailey) Download Photo Here
December 16, 2009
Future chefs get taste of what happens on the farm
CARBONDALE, Ill. -- You see a cow, a fish, a few beans, some grapes. They see dinner.
To better understand how what's at the farm gets to the kitchen, seven future chefs from Chicago's Kendall School of Culinary Arts spent four days earlier this semester touring Southern Illinois University Carbondale's farms, aquaculture labs, vegetable plots, vineyards and worm composting center as well as a local organic farm, area wineries, beef and lamb barns and a Missouri slaughterhouse.
"We hoped our students would gain an understanding of the complex network involved in producing modern-day foodstuffs and perhaps gain a greater appreciation for the work required of the producer/grower," said Chef Dana Cox, a Kendall culinary instructor who accompanied the group.
"Because so few of us are involved in the production of our own food, we've lost a connection with its origins. This is especially true in an urban environment. We wanted to expose our students to food producers as much as possible so that they don't view food as something that comes from a box."
Sylvia Smith, assistant professor of food and nutrition in SIUC's College of Agricultural Sciences and the detail person behind the group's visit, said because Kendall has developed a sustainability curriculum and is involved in a number of green initiatives, she arranged the itinerary to give the chefs-to-be a balance of research and real-world perspectives on agriculture and sustainability. She also wanted to showcase the region's food.
"Local producers can tell the students what it takes to produce fruits and vegetables and what it costs and what happens when the tractor breaks down and the temperatures are cool and the windstorms come," Smith said.
"We want the students to appreciate the value of fruits and vegetables, to understand why there might be a higher cost to it when they buy locally. We want them to understand all the differences between grass-fed and grain-fed beef so they can make an informed choice. And we want to educate them a little on animal welfare, to appreciate that the meat they're cooking was once walking around. When you're a chef, so often everything you see is packaged and wrapped."
The students seemed to get it.
"I gained a sense of understanding and appreciation for where food comes from and the hard work and preparation that goes into producing even the smallest bean or kernel of corn," said Sarah E. Roberts.
The time and energy needed to run a farm impressed Tiffany Nelson.
"You think you can just plant something -- no one understands what it takes to keep it going," she said.
"It takes so much work to produce something like milk. No wonder it costs $3 a gallon."
David J. Santos particularly enjoyed the vineyards and wineries, though the visits to the organic and lamb farms and the hunt for mushrooms ranked high on his list as well.
"Just being able to see people who put their time, energy and care into something they love to do is truly inspiring," he said.
"As a cook, this experience taught me that nothing beats fresh, quality ingredients that come from good people and good places."
Roberts, who cuddled a piglet, milked a cow, petted a lamb, fed some giant fish in the University's research tanks and marveled at "how worms can do so much with just a pile of dirt" at the SIUC worm composting center, said she enjoyed the "adventure."
"It was all around an incredible experience, and I will always be grateful for the opportunity." she said.
To her surprise, Roberts also enjoyed the region itself.
"Having never been to Southern Illinois, I was picturing corn and soybean fields in an endless monotony of flat, undefined farmland, just like you see here up north," she said.
"However, Southern Illinois couldn't have been more different, with its rolling hills, glistening meadows and quaint towns. The scenery alone would have been enough to make me want to come back."
At the end of the trip, the Kendall students cooked up a way to thank their hosts. Their six-course dinner for 61, made from donated local ingredients, featured canapés; grilled prawns over a nicoise salad and a citrus butter sauce; field greens with roasted grapes, cheese, spiced pecans and truffle vinaigrette; cucumber mint granita; sirloin tip roast with sweet corn and okra polenta and a summer vegetable ragout; followed by an apple tarte tatin and buttermilk peach fritters drizzled with lavender honey, all paired with local wines.
"I loved doing the dinner, even though it was a little hectic, and I liked that the entire dinner came from products we got there," Nelson said.
Chef instructor Dina Altieri said preparing the dinner gave the students a taste of what their futures will hold.
"They got some great hands-on experience in the catering realm of our industry," she said.
Nelson, Roberts and Santos all said they would have liked to spend more than four days, in Santos' words, "learning all this cool stuff."
Tongue in cheek, Roberts had just four words for next year's group.
"Take me with you!" she said.