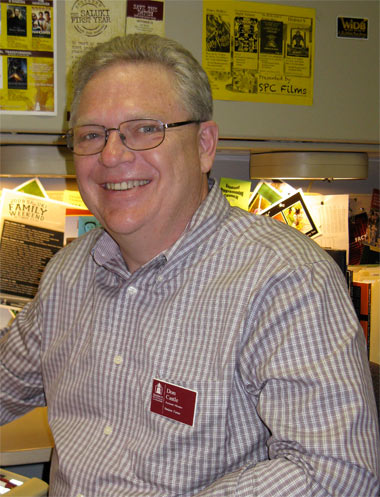 December 16, 2009
Ten questions with ... Don Castle
Job on campus/department you work in: Assistant Director of the Student Center, Student Programs
How long at SIUC: Just over 21 years
Hometown: Elgin, Ill.
When you were a youngster, what did you want to be when you grew up? I really liked being a youngster so I didn't much think about it.
If you could choose another profession, what would it be and why? I would be teaching music (I have an undergraduate degree in music) or doing something in the music industry.
What is something you still want to accomplish in life? Help students make SIUC known as the "fun place" to go to school.
What was the first "album" you ever bought, and was it an LP, 8-track or CD? LP: Glen Campbell "Wichita Lineman."
What is one random fact about you? I'm a die-hard Cubs fan. Sorry Cardinal fans.
What is your favorite food and why? Steak and potatoes on the grill. It gives me time to have beer while grilling.
Who has inspired you, and how? Sen. Paul Simon was a great man. He showed me the value of service and integrity.
What is your pet peeve? People making up their minds before they know the facts.
What would you like your gravestone to say about you? Oh my, I am not sure I am ready for this question. I guess "Father and Husband."
Favorite cartoon character? Why? Charlie Brown. His struggles with life seem very real to me.