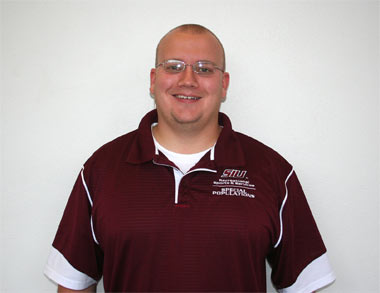 December 15, 2009
Graduate student Derek Donlevy honored by RSS
CARBONDALE, Ill. -- Derek Donlevy is the newest Leadership Team Member of the Month for Southern Illinois University Carbondale's Recreational Sports and Services (RSS).
Donlevy, of Oconto, Wis., is a second-semester graduate student working in the youth and family services program and in instructional programs. An RSS employee since January, he is working on his master's degree in recreation administration and holds a bachelor's in recreation management from the University of Wisconsin-La Crosse.
The son of Brian and Kim Donlevy, Derek's career plans are to work as director of a city park and recreation department or a park district. Co-workers at RSS commend Derek, winner of the September Leadership Team award, for his dependability and expertise at juggling his duties at the recreation center.
"Derek serves as a graduate assistant for two departments: youth/family programs and instructional programs. The challenge of this dual role is juggling many varied details and it is his ability to do so effectively and efficiently that has earned him this recognition," said Sally Wright, assistant director of recreational programs for RSS.
RSS presents the Leadership Team award monthly to a member of its leadership team, which is comprised of full-time staff, graduate assistants and student employees. Full-time staff members select the winner from among the nominations on the basis of extraordinary leadership and teamwork skills.