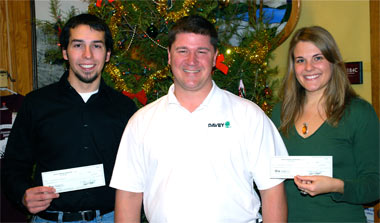 Forestry student scholarship recipients -- Two forestry students from SIUC received Davey Arbor Grant Scholarships from Davey Tree, a national tree, shrub and lawn care company. From left are scholarship recipient Travis J. Kling, of Mahomet; Tom Beshoar, an SIUC alum representing Davey Tree; and scholarship recipient Melissa E. Joukema, of Downers Grove. (Photo by Andrea Hahn) Download Photo Here
December 15, 2009
Joukema, Kling win Davey Tree scholarships
CARBONDALE, Ill. -- Two Southern Illinois University Carbondale forestry students earned scholarships from Davey Tree, a national tree, shrub and lawn care company.
Melissa E. Joukema, the daughter of J. R. and Priscilla A. Joukema of Downers Grove, and Travis J. Kling, the son of Gary J. and Joan J. Kling of Mahomet, each received a Davey Arbor Grant Scholarship of $1,000.
Tom Beshoar, an SIUC alum and representative of Davey Tree in St. Louis, came to SIUC this week to present the scholarships.
Joukema's forestry specialization is outdoor recreation and resource management. Her particular area of interest, she said, is natural resources and environmental studies.
Kling's specialization is forest resources and management. He is especially interested in wild land fire and fire ecology.
John W. Groninger, professor of silviculture, agroforestry and ecosystem restoration, said the University has a long-standing relationship with Davey Tree, a leader in urban forestry.
"Urban forestry is one of the best-kept secrets," he said, noting that careers in the area remain available and can be financially satisfying. "Davey Tree comes on campus a few times a year to recruit and let students know about career opportunities in urban forestry."
He noted that SIUC students have earned the Davey Tree scholarship in the past, but was particularly pleased to have two at one time.
"We give scholarships to help promote scholarship in the next generation of forestry students," Beshoar said. He noted that the scholarships seemed even more personal this year, as Davey Tree was on campus for more than two months helping the campus recover from the devastating May 8 windstorm.
Davey Tree gives approximately $33,000 in scholarships annually to college students, with additional scholarship money available to its employees.