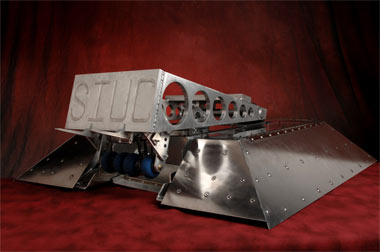 Top contender -- The Juggernaut, a robot built by student engineers at Southern Illinois University Carbondale, won five team awards at the National Association for Industrial Technology annual robotics competition in November in Louisville, Ky. The nine-member Saluki team, members of the student Association of Technology, Management, and Applied Engineering, competed with 11 other college teams. (Photo by Russell Bailey) Download Photo Here
December 10, 2009
Student engineers excel in robotics competition
CARBONDALE, Ill. -- After just three years of competition, student engineers at Southern Illinois University Carbondale have established themselves as top contenders at a national collegiate robot-building contest.
Building on the success achieved by last year's team, SIUC won five team awards and two individual awards at this year's annual robotics competition. The team awards included three first-place awards and the competition's first ever "perfect" score for robot design. Individual team members also took first and second place in a technology IQ bowl, beating out about 50 other students.
The nine-member Saluki team, members of the student Association of Technology, Management, and Applied Engineering, competed with 11 other college teams during the competition Nov. 12-13 in Louisville, Ky. The team's speedy and agile 80-pound aluminum creation, called "The Juggernaut," proved itself a top contender in this year's assigned task: picking up racquetballs and bocce balls and depositing them in an assigned area during a series of three-minute robot-on-robot matches.
"It was pretty exciting during the awards banquet to be called up repeatedly and to have our students recognized for all their hard work," said Bruce DeRuntz, associate professor of technology in the College of Engineering, who acted as adviser for the team. "We humbly started a few years ago, and this year we were even more determined."
The Saluki team and its members won just about everything in sight at the contest, but missed winning the overall by a mere half-point after a rough match with a robot almost twice The Juggernaut's size left it with a burned out motor, unable to compete in its last two matches.
Still the team, wracked up some impressive awards including:
• 2nd Place Overall
• 3rd place Head to Head Robotics Competition
• 1st Place Robot Design (first-ever perfect score in competition history)
•1st Place Poster Design
• Best ATMAE Student Chapter Award
DeRuntz said the SIUC team grew out of the Blaudow/ATS Technical Leadership Program in Manufacturing, which provides scholarships for students who show leadership potential in the field. Richard W. Blaudow and his wife. Brigitte, sponsor the program. Blaudow is an alumnus whose company, Advanced Technology Services, helps manufacturers become world-class companies.
"It's very rewarding because we started out competing as part of the requirements of the Blaudow/ATS program," DeRuntz said, adding that several of the team's members are recipients of the scholarship. "These students showed great leadership and teamwork. They put in hundreds of hours of work and the way we dominated the whole conference clearly set SIUC apart from the rest of the country."
For the first time, the team went to outside sources to help it build a superior robot. After using computers to design the robot, team members contracted with Brehm Preparatory School in Carbondale for control system work, agreeing to help Brehm's team -- competing in a different robot contest -- design its mechanical systems next year, in return. They also received fabrication services from Quality Stainless Products, of St. Louis, which assisted them in fabricating the chassis for the robot.
You can't buy a robot like The Juggernaut off the shelf, even at the most inclusive hobby store. The students custom-designed practically 100 percent of its parts, right down to nuts with setscrews in them. Parts alone cost about $7,500. The work required a team mindset, DeRuntz said, which is a big part of the point of such competitions.
"This group divided the work up well, which is sometimes difficult to do and to let go of certain things," he said. The team assigned its members individual tasks, as well as creating teams for building the robot, handling financing and designing the conference poster, through Instructional Support Services at Morris Library.
"I told them if anybody falls down on this, we don't build or we don't compete. Everyone had to do their job," DeRuntz said. "They pulled together as a team and that's an important skill."
Judges graded robots based on an explanatory poster each team provided, the robot's mechanical and electrical designs and the head-to-head competition. That competition involved two robots racing from different starting points to a group of four balls -- four racquetballs and one bocce ball -- where they would attempt to grab them and take them to another defined area for offload.
Designing a robot to do those things well was a challenge, DeRuntz said.
"It's a lot more complicated than it looks because you have to handle the different size, weight and texture of the two different balls," DeRuntz said.
The Juggernaut, including its ingeniously designed angled "skirts," measures about 3 feet square. Powered by electric motors, it buzzed around the carpet of the "arena," handily dispatching its competitors with speed, power and a ball-capturing device that is engineering accomplishment in itself.
To capture the balls, the operator, using radio controllers, lines them up with a gate on the front of the robot. Lifting the gate, the operator drives the robot over the balls, where they encounter a horizontal spinning reel with racquetballs impaled on it. The tacky surface of the spinning racquetballs seizes the balls and drags them into a tray behind the shaft. The operator can then tilt the tray up, capturing the balls inside.
Sound simple? The Saluki team may have made it seem that way, but consider this: After beginning design work and starting fabrication and construction last spring, the competition organizers "clarified" a rule this summer. The clarification turned out to be highly significant, requiring the captured balls to be lifted off the floor rather than simply contained within the robot.
"We were running two, three months ahead of schedule and our design planned to just have the front lift arm (gate) go up and trap the ball inside, rolling them along with the robot," said Phillip Orman, a senior in mechanical engineering and the son of Wes and June Orman of Mattoon. "We wracked our brains on that all summer -- how are we going to do this? Finally we came up with the idea, after a lot of late nights of work."
The answer was adding the entire four-link tilting tray assembly months after the design and fabrication were well along. The team met the unexpected challenge, adapting the design and continuing its fine-tuning right through the hours leading up to the competition.
"We were building the robot and trying to figure out how to make it work at the same time," said Joe Buchanan, a senior in industrial technology and son of Butch and Cathy Buchanan of Piatt County. "We got to practice with the final version for about 10 minutes before the competition began."
Even so, The Juggernaut performed to perfection, winning match after match until it encountered the robot that would ultimately win the head-to-head competition. That 150-pound robot was much heavier and relied on vacuum suction to pick up balls. When the two became entangled, The Juggernaut put up a terrific fight, inadvertently peeling away part of its foe's sheathing and nearly tipping it over. The battle, however, burned out its drive motor, knocking SIUC out of the competition.
Another high point involved team members Ross O'Connor, a junior in industrial technology and son of Gary and Judy O'Connor of Decatur, winning first place in the IQ bowl. His teammate, Logan McNear, a senior in electrical engineering from Norris City and son of Robert McNear and Kim Hillyard, took second.
Other team members include:
• Dustin Kurtz, a senior in mechanical engineering and son of Darrell Kurtz, of Paxton
•Levi Scott, a senior in industrial technology and son of Van and Wanda Scott, of Carmi.
• Josh Boswell, a senior in industrial technology and the son of Robert and Carla Boswell, of O'Fallon
• Brad Wilson, a junior in mechanical engineering and son of Bruce Wilson and Susan Wilson of Clinton
• Tarani Kanth Kamma, a graduate student in manufacturing systems from Visakhapatnam, India.
Like last year's SIUC creation, "The Dawg-scalator," The Juggernaut may have a future in recruiting engineering students to SIUC, DeRuntz said.
"Our robots are pretty exciting, they are sophisticated and move fast, make a lot of noise and do some amazing things," he said.