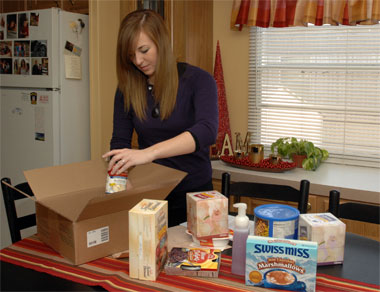 Gifted -- Working from her apartment kitchen, Dana N. McKie, a senior at Southern Illinois University Carbondale, puts together a "care package" for a soldier far from home. McKie has started a new registered student organization, Salukis for Soldiers, to help reach more men and women in service. (Photo by Steve Buhman) Download Photo Here
December 09, 2009
Student's passion leads to 'Salukis for Soldiers'
CARBONDALE, Ill. -- Dana N. McKie knows soldiers. Her mother served as an Air Force nurse, her father just retired as an Air Force master sergeant, her granddaddy was in the Navy, her papaw was in the Army, and she has a cousin with the Air Force in Iraq.
So setting up Southern Illinois University Carbondale's new soon-to-be registered student organization, Salukis for Soldiers, came naturally. McKie's strategy for the group is simple. In addition to sending intermittent "care packages" to U.S. soldiers from the area, Salukis for Soldiers will help other campus groups -- Greek organizations and service clubs, for example -- assemble and wrap their own packages. Her organization also will raise funds to pay for shipping.
"I don't think it will be a problem to get the items because people are so interested and supportive," McKie said. "I think the hard part will be getting the money to send them off. We'll probably do bake sales and things like that."
McKie shipped out her first bundle long before she signed on as a Saluki.
"Growing up, it was always something we did, sending off packages to my dad or other friends who were overseas," said McKie, a senior majoring in general agriculture.
She began sending packages to randomly selected soldiers as a high school junior after talking about the family tradition in speech class.
"I just Googled Web sites dedicated to sending packages and letters," she recalled. "There'd be a list of soldiers with items they needed or wanted, and I'd just pick one."
Over the summer, McKie happened to be scanning the University's student organization site and noticed none of them had to do with soldiers, though she knew of several SIUC students presently in the service. To test interest in a group aimed at sending a piece of home to soldiers far away, she put together a Facebook page (http://te-in.facebook.com/group.php?gid=122965550026) and almost immediately had 125 friends. That clinched it for her. In September, she went to the University's student organization office to begin the long process involved in moving the group from idea to reality.
"It took me a while to put it all together, write the objectives and the bylaws, get all the signatures, find an adviser," McKie said.
A "sister" from the Sigma Alpha agriculture sorority put her in touch with Charles M. Ruffner, an associate professor in the agriculture college who, in addition to having served as a soldier, works with the military in Afghanistan to rebuild the country's forests (to see related story, click here). Ruffner has agreed to serve as the group's faculty adviser.
Because of the student-turned-soldier connection, Ruffner encouraged McKie to put together "homey packages" -- Saluki-related gear that would remind these young men and women of their alma mater.
"But we also have an interest in soldiers from Southern Illinois," McKie said.
"It's a way of helping. If we can have an impact on just one person, it would be nice."
Anyone interested in learning more about Salukis for Soldiers may e-mail McKie at dnmckie@siu.edu or call her at 618/528-0361. She's hoping to get a corps of active members who will take over running the organization in the future.
"It's something I'm really passionate about, but I graduate in the spring," McKie said.
"I'll have to rely on other people to carry this on."