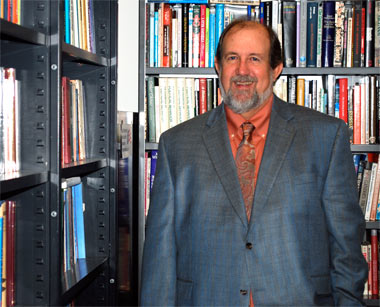 November 18, 2009
Ten questions with ... Robert Benford
Job on campus/department you work in: Professor and chair of the Department of Sociology
How long at SIUC: 9.5 years
Hometown: None (I'm nomadic)
When you were a youngster, what did you want to be when you grew up? Airline pilot
People don't know that you… flew airplanes before I drove cars.
If you could choose another profession, what would it be and why? Underwater archaeologist, because I could search for sunken treasure, live in the Caribbean, and listen to reggae music.
What is something you still want to accomplish in life? Find sunken treasure, or win the World Series of Poker
If you could pick an actor/actress to play you in a movie, who would you pick and why? Kevin Costner, because of the obvious physical resemblance and his cocky demeanor.
What is your favorite food and why? Shrimp, because they reside near my sunken treasure and they go well with beer.
Who has inspired you, and how? Abbie Hoffman. He spoke out against systemic injustice and demonstrated the power of satire and parody. Abbie inspired me to write papers on the dramaturgy of protest.
What is your pet peeve? People who lack a sense of humor.
What would you like your gravestone to say about you? 1951 - ∞
Favorite cartoon character? Why? Bullwinkle (the moose) because he was a loveable, albeit confused, champion of the downtrodden and a brilliant poet/orator who was a master of puns.