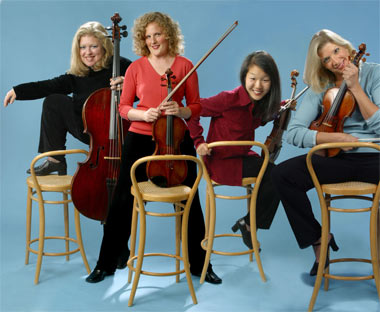 Cavani String Quartet -- From left are Merry Peckham, cello; Kirsten Docter, viola; Mari Sato, violin; and Annie Fullard, violin. The Cavani String Quartet returns to Southern Illinois University Carbondale as part of its continuing commitment to musical education. (Photo provided) Download Photo Here
November 10, 2009
Cavani String Quartet plans workshops, concerts
CARBONDALE, Ill. -- The group that started a violin revolution in Carbondale returns to Southern Illinois University Carbondale for a visit that includes workshops, community outreach and concerts.
The Cavani String Quartet begins its visit with a master class for SIUC music students. The musicians will also visit much younger music students at Unity Point, and at Thomas School, where their first visit in 2004 helped launch the John Thomas Strings program. Since the string quartet made that first visit, and thanks to a donation of 22 violins, second and third graders at Thomas School have the opportunity to learn violin as part of their music program. Those youngsters who are willing to give up one recess a week may also participate in a traveling group that performs at various civic functions in the area.
The School of Music invites the public to join the quartet when it takes a break from the busy day -- a Beethoven Break. The Beethoven Break musical performance is Friday, Nov. 13, from 2:30 to 3:30 p.m. in the rotunda of Morris Library near Delyte's Café and the John C. Guyon Auditorium. The performance is free. The Beethoven Break is reminiscent of the Cavani String Quartet's yearlong dedication to playing every Beethoven quartet in library settings.
In addition to the Beethoven Break, the quartet will perform two concerts.
• Nov. 14, 7 p.m. at the Marion Cultural and Civic Center. Tickets are $20 and are available at the door.
• Nov. 15, 3 p.m. at the Unitarian Fellowship on Parrish Lane in Carbondale, hosted by the Southern Illinois Chamber Music Society. Tickets are $15 for general admission and $3 for students, and are available at the door. The concerts feature selections from Beethoven, Mendelssohn and Bach.
The Cavani String Quartet features Annie Fullard, violin, Mari Soto, violin, Kirsten Doctor, viola, and Merry Peckham, cello. The quartet calls Cleveland, Ohio, home, where it serves as the Quartet-in-Residence at the Cleveland Institute of the Arts. The quartet is famous as performers and famous for music education. Their performance credits include top venues in New York City, Washington, D.C., Los Angeles, Amsterdam and Le Mans, France, among others. They have also won numerous awards, as a quartet and individually. For more information, visit www.cavani.org.
Members of the SIUC School of Music faculty join the Cavani String Quartet for these performances. The Mendelssohn selection is a string octet, and features violin professor Michael Barta and violin graduate student Metiny Suwanawongse, and School of Music faculty Aurélien Pétillot, viola and Eric Lenz, cello. The Bach selection is the Brandenburg Concerto 2. Edward Benyas, oboe; Philip Brown, bass; and Douglas Worthen, flute; and visiting faculty member Martha Stiehl, continuo, represent the School of Music faculty. Recent graduate Jered Montgomery also joins the ensemble on piccolo trumpet.